Carolina Herrera Designs Amy Adams's Press Tour Wardrobe
Carolina Herrera Tosses Her Hat in the Ring For Amy Adams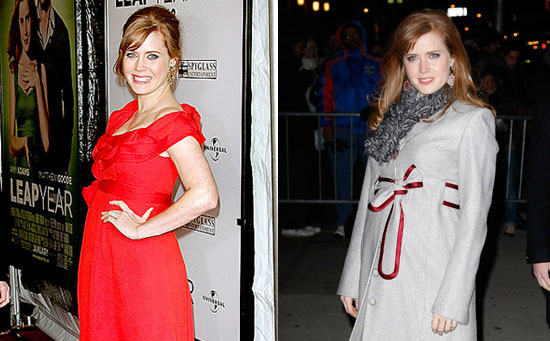 No doubt about it, maternity clothes are not always exciting. Bryant Park does not get shut down for days so that bumpalicious babes can strut their stuff in front of Anna Wintour and the like. But perhaps the new crop of designers will have others thinking about the opportunity to do so. Christian Siriano, Nicole Richie, and Heidi Klum have all tossed their hats in the ring, so why not take it up a notch to the couture level?
In an effort to keep the adorable Amy Adams looking her best on her Leap Year press tour, famed designer Carolina Herrera is lending her talents. The red-headed beauty gushed to InStyle about the dreamy designs she's been sporting for her junkets. She said of her Carolina Herrera threads:

"They made my clothes for the entire press tour. They're amazing. They did such a great job."
It's probably a good thing that we're not all privy to such delights or else the world would have an overpopulation issue on a new level.