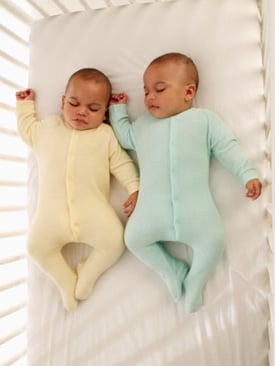 Could an end be in sight for new parents fearing Sudden Infant Death Syndrome (SIDS)? After decades of research and thousands of unexplained deaths, researchers believe to have found a definite link between low levels of serotonin in the brain and babies who died of SIDS.
In a study published in the Journal of the American Medical Association, scientists found that serotonin – a chemical in the brain that responds to carbon-dioxide levels to regulate sleep, heart rate and breathing in babies – levels were 26 percent lower in wee ones deemed to have succumbed to the syndrome. When serotonin levels are low, tots' brains do not detect high carbon dioxide levels and wake them to shift their position and get more oxygen.
Doctors are lauding the study, suggesting that a test could be performed at birth to determine serotonin levels and courses of treatment can then be determined for those babies deemed at risk. In the meantime, doctors are still reminding parents to place babies on their backs to sleep and to follow other preventative tips designed to keep carbon dioxide levels low around infants. Will the identification of a cause of SIDS allow you to rest easier at night?