Celebrate Cultures With Complexion Crayons and Pencils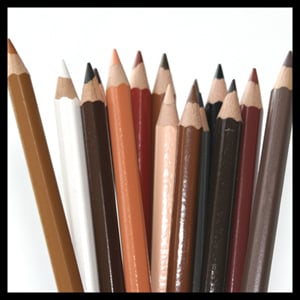 Crayola renamed its "Flesh" crayon "Peach" in 1962, as it was seen by some as racist and politically incorrect. Today, children can choose a variety of art supplies, from the waxed coloring sticks to pencils, to accurately shade in their skin in self-portraits. Celebrate the diverse beauty of the world's peoples by checking out some of these products.
Crayola's Multicultural Crayons ($2.50). The eight-pack of chunky crayons offers shades of black, sepia, peach, apricot, white, tan, mahogany, and burnt sienna. Lyra Assorted Skin Colors Pencil Set ($27). The fine pigmented pencils come in a pack with a dozen shades that can be mixed to create any complexion a lil artist wants. People Pencils ($20). The set of 15 pencils can be blended to achieve different skin tones to represent humans around the globe.