Hollywood is full of great expectations this season! Whether they're first-time moms-to-be or seasoned veterans of parenthood, we've rounded up some of our favorite pregnant celebs with babies on the way. Click through to see who's strutting a baby bump on the red carpet and which new arrivals we can't wait to hear about!
Kerry Washington
Though Kerry Washington has yet to confirm the news, sources close to the Scandal star reported in October that she and husband Nnamdi Asomugha are expecting their first child [1].
Kristin Cavallari
In October, Kristin Cavallari [2] announced that she is pregnant with her second child. The former star of The Hills and her husband, Jay Cutler, are already parents to 1-year old son Camden.
Emily Blunt
Back in September, Emily Blunt [3] and John Krasinski [4] announced that they're expecting their first child [5] in just a few short months! The couple wed in Italy in 2010.
Emily has had her growing bump on display while filming Into the Woods in London.
Gwen Stefani
After months of speculation, Kingston and Zuma's mom confirmed that she and Gavin Rossdale [6] are expecting baby number three. The singer put her growing baby bump on display at a red carpet event in October with fellow pregnant star Rachel Zoe [7].
Olivia Wilde
It was announced in October that Olivia Wilde [8] and her fiancé, Jason Sudeikis, will be welcoming their first child [9] next year.
Kendra Wilkinson
Kendra Wilkinson confirmed the news of her second pregnancy during an appearance on the Today show in October (she and husband Hank Baskett are already parents to 3-year old Hank VII). Kendra also shared the news [10] on Twitter, posting a photo of her positive pregnancy test and saying, "Round two. Here we go!!"
Rachel Zoe
In early September, stylist to the stars Rachel Zoe [11] confirmed that she's expecting her second child with husband Rodger Berman. "Before we head into the chaos of fashion season, we wanted to take a moment to OFFICIALLY confirm that we are expecting another child," Zoe wrote in a post on her blog, The Zoe Report [12]. "We are beyond excited for Skyler to have a sibling and for us to fall in love all over again. We feel incredibly blessed."
Kate Winslet
Kate Winslet is pregnant with her third child [13], she announced back in June. The baby will be her first with husband Ned Rocknroll, who she married in December. Her kids, Mia and Joe, are 12 and 9 years old, respectively.
Autumn Reeser
On May 29, Autumn Reeser took to her website [14] with the message "It's Pregnancy Awareness Month. So you should be aware . . . that I'm pregnant!" The baby, due on Nov. 24, will be the second for Reeser and her husband, Jesse Warren, who have a 2-year-old son named Finneus James.
Jennifer Love Hewitt
In early June, Jennifer Love Hewitt [15] announced that she is expecting her first child with boyfriend Brian Hallisay. The couple confirmed the happy news to POPSUGAR [16] with the following statement: "This is a wonderful time, and we are looking forward to starting our family together."
Teresa Palmer
Warm Bodies star Teresa Palmer and her fiancé Mark Webber, are expecting a baby, and Palmer recently flaunted her expectant body for Who Magazine [17], according to People. The couple released a statement via a rep, saying that they "are over-the-moon excited and can't wait to add to their family."
Megan Fox
It was announced in early August that Megan Fox [18] and husband Brian Austin Green [19] are expecting their second child, nearly one year after Megan gave birth to their son, Noah.
Danielle Jonas
Kevin Jonas announced in early July that his wife, Danielle, is pregnant with the couple's first child, a baby girl. About being a father, Kevin said [20], "It's the most exciting thing in my life so far. I'm excited, and I'm nervous."
Thandie Newton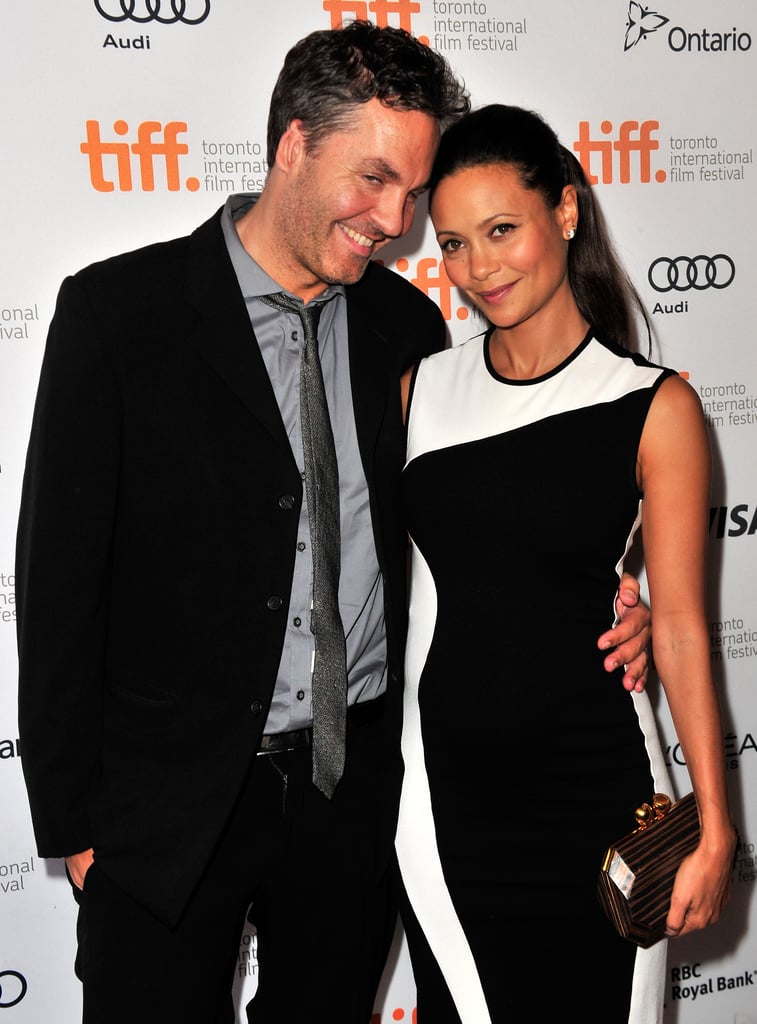 Forty-year-old Thandie Newton [21] and writer, director, and producer husband, Ol Parker, announced in September that they're expecting their third child next year. The couple, who were married in 1998, have two daughters, 8-year-old Nico and 13-year-old Ripley. Newton debuted her baby belly at the premiere of her film Half of a Yellow Sun at the Toronto International Film Festival.
Elsa Pataky
Chris Hemsworth and his wife, Elsa Pataky, confirmed in November that they are expecting their second child [22]. The couple have a 1-year-old daughter, India Rose.
Ginnifer Goodwin
In November, Once Upon a Time stars Ginnifer Goodwin [23] and Josh Dallas confirmed that they are expecting a baby [24]! The couple fell in love on the set and got engaged late October.
Kelly Clarkson
Just a few weeks after tying the knot with Brandon Blackstock, Kelly Clarkson [25] announced that she is pregnant with the couple's first child [26]. She tweeted the news in November, saying, "I'm pregnant!!! Brandon and I are so excited! Best early Christmas present ever."
Drew Barrymore
In November, it was confirmed that Drew Barrymore is pregnant with her second child [27]. She and husband Will Kopelman are already parents to daughter Olive.