With unlimited budgets and designers at their fingertips, celebs have the opportunity to create nurseries of dreams. We're taking a look inside the bedrooms of Tinseltown's most stylish tots. While some opt for opulence, others choose simplicity when designing their lil ones' rooms. See how some celeb mamas — and dads — chose to dote on their tots.
Bronx Wentz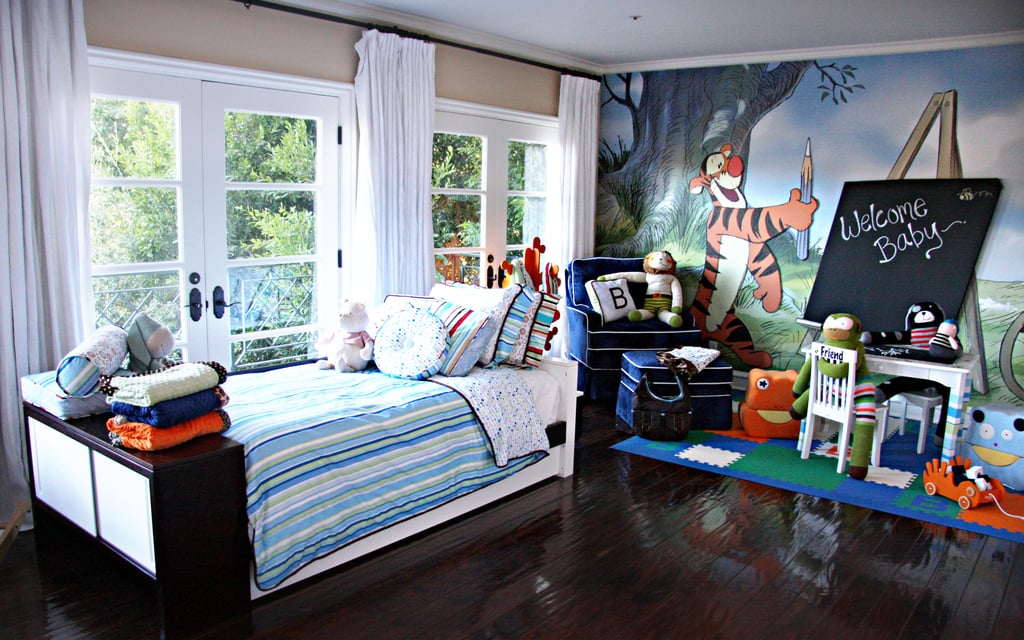 Pete Wentz [1] and Ashlee Simpson [2] brought their love of Disney [3] into son Bronx's room. The couple had the film company's Pooh cartoonist come in to draw the mural.
Brooke Burke's Posh Crib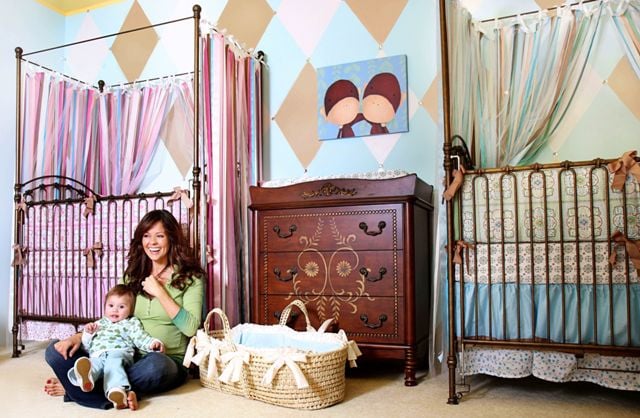 Though the ribbons used to highlight the colors of Brooke Burke's nursery for daughter Heaven Rain and son Shaya Braven were only used for the photo shoot [4], they created a lot of talk among new moms. The mom used a harlequin pattern to create a coed nursery.
Laila Ali's Whimsical Nursery
Before giving birth, Laila Ali turned to the experts at LA's Little Crown Interiors to create the perfect room [5] for her tot. Naomi Alon and Gerri Panebianco quickly assessed the space for safety issues and went to work. The result? A "whimsical traditional" room filled with feminine pieces to make lil Sydney feel at home.
Brooke Burke's English Garden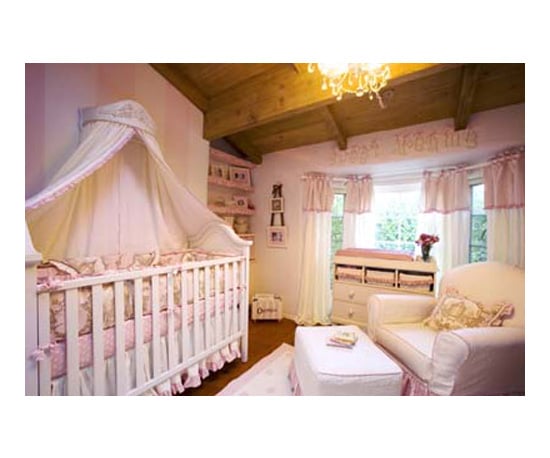 Before she created her dual nursery, Brooke Burke created a traditional pink and tan English garden nursery [6] for daughter Heaven Rain.
Jennie Garth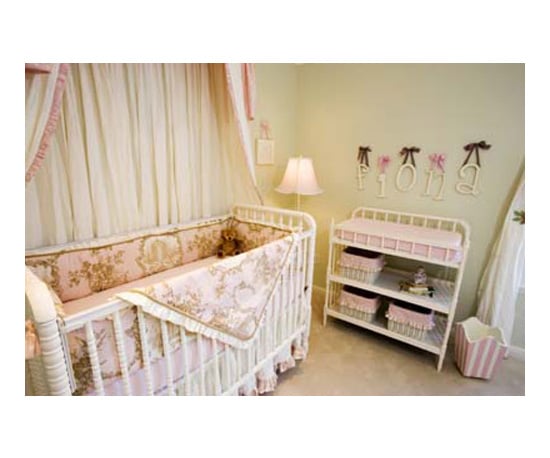 Jennie Garth worked with New Arrivals [7] to create a nursery around an old English garden toile pattern.
The Spelling-McDermott Home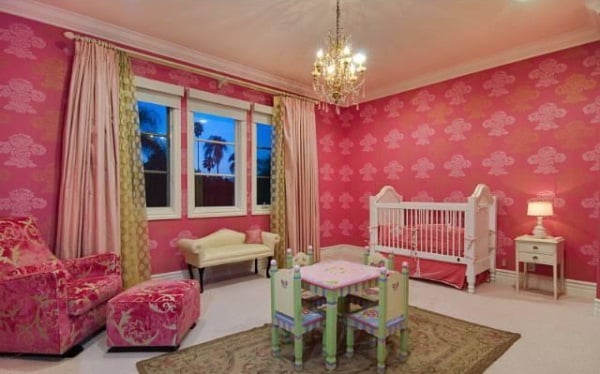 When Tori Spelling [8] and Dean McDermott put their Hollywood home on the market [9] we got a glance at Liam and Stella's gender-specific, highly decorated nurseries.
The Spelling-McDermott Home
Liam McDermott's nursery [10] had a sophisticated feel to it.
Kelly Ripa's Enchanted Nursery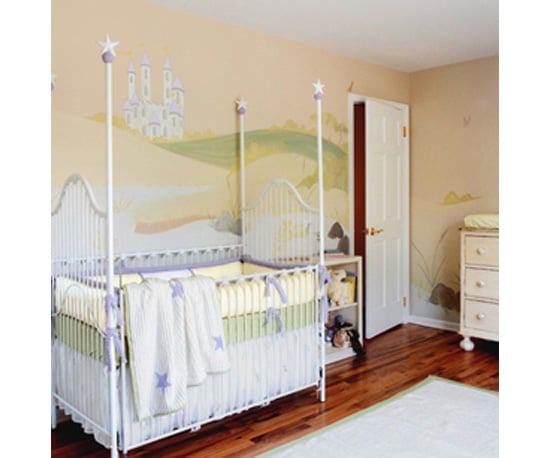 Kelly Ripa [11] went for a fairy-tale dream nursery [12] when she created her daughter's room with Wendy Bellissimo. The painting had a path leading to the princess's castle.
Alex Kingston's English Garden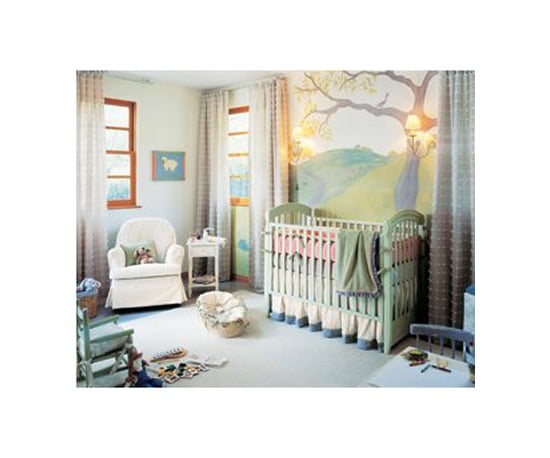 Former ER star Alex Kingson created an English Countryside [13] for her daughter's room with Wendy Bellissimo, which included a picnic table that could be used for arts and crafts.
Teri Polo's Clean Nursery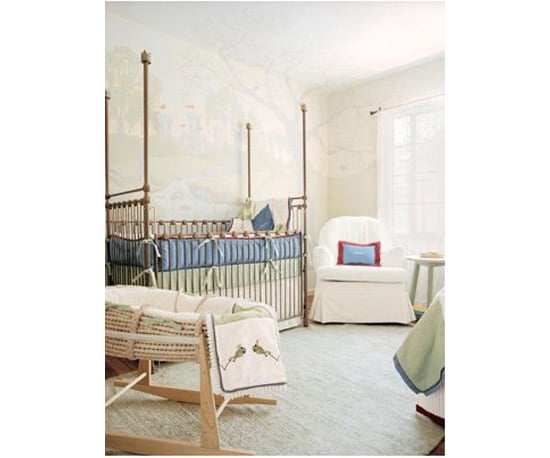 Teri Polo created a beautifully clean look for her nursery, including a subtle outdoor mural to create a calm scene.
Diddy's Hillside Dream
Sean "Diddy [14]" Combs went for an idealistic hillside scene for one of his twin's nurseries. The mural appears to extend to the ceiling to create a beautiful sky for the baby to marvel at when in the crib.
Source: Shalena Smith [15]
Mariah Carey and Nick Cannon's Traditional Nursery
Forgoing a pink and blue color scheme, Mariah and Nick's classically decorated nursery was primarily outfitted in green, with pink accents (and butterflies, of course) scattered throughout. The highlight: a night-sky-painted ceiling that the mama-to-be found herself staring at as she awaited her babies' arrival. "To me, it symbolizes wanting my children to dream as big as possible and to let their imaginations be unbridled."
Source: Lisa Rose for Life & Style [16]
Neil Patrick Harris's Twins' Room
When Neil Patrick Harris [17] and David Burtka originally brought home twins Gideon and Harper, they briefly lived in this animal-themed nursery [18].
Melanie Brown's Quiet Sanctuary
Prior to the birth of baby Madison, Melanie Brown turned to LA's Little Crown Interiors to design a quiet sanctuary [19] from the chaos of daily life with her two older children, Phoenix Chi, 12, and Angel, 4. The suite of antique silver furniture, plum crushed velvet, and ivory damask work together to create a calm oasis in the midst of that storm.