Celebrity families spent the last days of Summer vacation soaking up the family fun. We spied Rachel Zoe [1] building sand mountains on the beach, while Madonna [2] enjoyed lunch alfresco prior to sending her daughter off to college. Gisele Bundchen and Carey Hart shared simply sweet pics of their little ones, while Tori Spelling [3]'s kids gave some tourists the surprise of a lifetime!
Click through to see this week's cutest celeb-tot candids — all shot by Mom or Dad — and don't forget to follow POPSUGAR Moms on Instagram [4], Facebook [5], Pinterest [6], and Twitter [7]!
Brooks Stuber was caught "borrowing" some things from his parents' closets.
It was nearly impossible to recognize Pink and Carey Hart's daughter, Willow, behind her dad's racing helmet.
Lola Consuelos was ready for s'mores while on vacation with her family.
Joaquin Consuelos spent his vacation on his boogie board — which mom, Kelly Ripa [8], blamed on Shark Week.
Harper Smith enjoyed some stylish pool time with her cousins.
Madonna [9] was surrounded by three of her kids — Lourdes, Rocco, and Mercy James — prior to Lourdes entering the University of Michigan's freshman class.
Like father, like son? Noah and Michael Bublé showed off their similar sleeping faces.
Benjamin and Vivian Brady shared a hug (and a nap) under Gisele's watchful eye.
Mariah Carey [10] enjoyed some amusement park time with her daughter, Monroe.
Liam, Stella, and Finn McDermott fed a tour bus of star-seekers some cookies and lemonade.
Beau Dykstra gave his mom, Jamie-Lynn Sigler, a thoughtful pose in honor of his first birthday.
Rachel Zoe [11] and Skyler Berman caught the afternoon light on the beach in the Hamptons, NY.
Sunnery Gorré got in a snuggle with his newborn, Myllena.
Reese Witherspoon [12] wasn't too upset to see her kids head back to school.
James Knight used his mom, Jaime King's, keys as a teething ring.
Mike and Luca Comrie got an unusual lift from a friend.
Ivanka Trump and Arabella Kushner compared their shoe styles.
Kourtney Kardashian and Mason Disick visited the local zoo.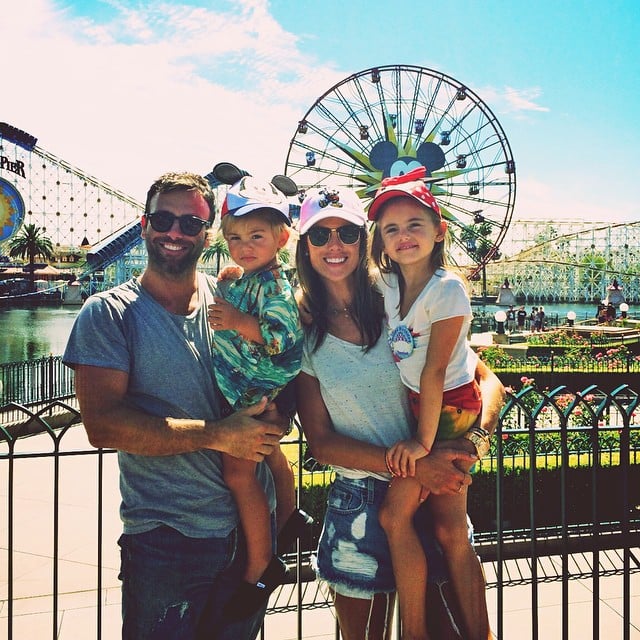 Alessandra Ambrosio celebrated her daughter's birthday at Disneyland.
Source: Instagram user alessandraambrosio [13]