Charles Toy Storage Drum
Pimp Your Crib: Posh Toy Storage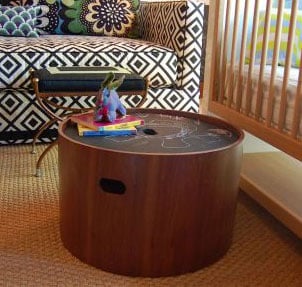 Recently an expectant couple came over to our house and saw the overwhelming amount of toys that have taken over our living room. The dad-to-be looked at the pregnant wife and asked, "Is this what our house is going to look like?"
For now, their home is beautifully decorated and immaculately kept. But his comment made me realize despite stashing away toys in bins and baskets, they are an eye sore. To see how to combat this problem,
.
So when I saw this sleek storage drum ($299), I drooled at the idea of having one of these beauties to mask the playground that our place has become.
Spacious and useful as a storage bin, the lid also has one side that is made of chalkboard material, which can make it a novelty for children, too. And when your friends come over for wine, just flip it over and have the wooden part add some grown–up pizzazz.