Child-Friendly Hamburger Recipes
Get Your Burger On: Mural Meal Slider Girls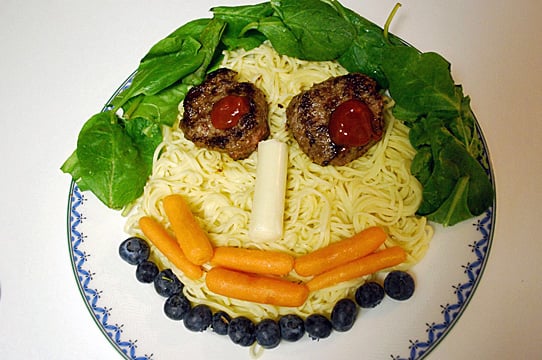 Hamburgers come in all shapes and sizes, and as we continue our journey through National Hamburger Month, we're getting creative with the patties. Burgers on a bun may make some mouths happy, but once the bread is removed the options are limitless. Turning sliders into a work of art ensures that tots get each of the food groups on their plate in a fun and enticing way.
The slider girl pictured here includes a protein, grains, fruit, vegetables, and dairy. To recreate the lil lady:
Cover the plate with angel hair pasta to create a face.
Two sliders will serve as eyes (add ketchup to make it even more realistic).
Baby carrots can be arranged to make a mouth.
A centered piece of string cheese can serve as a nose.
Place baby spinach around the top of the head to make some crazy hair.
Carefully arrange blueberries around the base of her face for a beautiful necklace.
Do you have a burger recipe that your tots love? Share your recipe with other mamas in the The Children's Table group over in the LilSugar Community! We just may feature it on LilSugar!