Child's Gun Control Idea to VP Biden
7-Year-Old Tells Vice President Surprising Gun Control Idea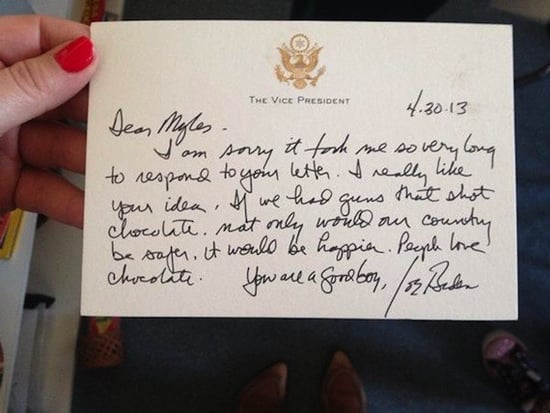 A 7-year-old's suggestion for gun control recently received a surprising response after it was brought to the attention of Vice President Joe Biden. 
Wisconsin second-grader Myles wrote a letter to the vice president a few months ago suggesting that guns shoot chocolate bullets to help make the nation safer, according to the Associated Press, via the Huffington Post. If his idea could be implemented, no one would get hurt, he explained. 
To the boy's surprise, Biden agreed. He recently sent a handwritten note, agreeing that, "If we had guns that shot chocolate, not only would our country be safer, it would be happier." 
Perhaps a chocoholic himself, Biden added: "People love chocolate."