Children's Arguments
Mommy Dearest: Do I Have to Give Up My Friends?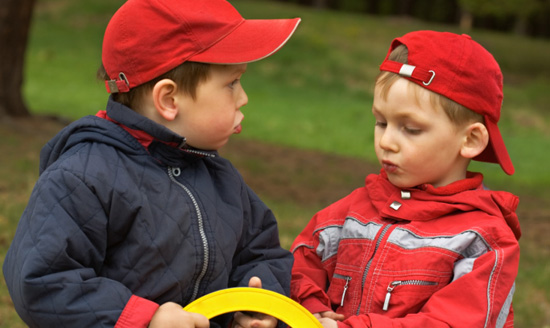 Mommy Dearest —
Over the past few years, we have become friendly with some of our son's classmates' parents, often going out with them without the children. Last week my son and one of his friends had a pretty large disagreement — reducing both to tears and leaving them both vowing to never speak to the other again. We've resolved the actual issue between the kids, but the children still aren't speaking and now the child's parents seem to be avoiding us. Do I have to say goodbye to my friends just because our children aren't getting along?
— Stuck in the Middle Mama
To see Mommy Dearest's response,
.
Dear Stuck in the Middle Mama,
Ah, the lasting effects of a schoolyard fight. First off, you need to remember that the tots' disagreement only occurred a week ago. By tomorrow, these kids may be best friends again. But if, for some reason, they are not besties again, there is no reason you need to end your friendship with the other parents. A simple phone call explaining the situation and your wish to remain friends could clear the air instantly. I would also try to work with the other parents to resolve the situation between the tykes — they might not resume their relationship in the same way, but it will be a good lesson for everyone involved.
— Mommy Dearest
Have a question you need answered? Submit it to the Mommy Dearest Group in our Lil Community.