Children's Birthday Parties 2010-02-17 06:00:18
Mommy Dearest: How Do I Handle Special Needs at My Party?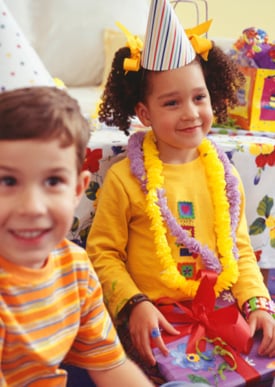 Mommy Dearest –
I am planning a gym party for my son's upcoming fifth birthday and am having an internal dilemma about whether or not to invite one particular child. The child in question has special needs that often involve her not listening well to instructions. At our party last year, the child did not listen to the teacher's directions and ended up interfering with the other children's art projects. When the teacher said something to her, her parents ended up yelling at the teacher for "coaching" their special needs child. I'm nervous about inviting them to the party this year because of the somewhat rowdy nature of a gym party, but at the same time, don't want the child to be left out just because of her differences.
What would you do?
– Should I Include Mommy
To see the response from Mommy Dearest,
.
Dear Should I Include Mommy,
It does sound like the child has a special circumstance that needs tending to. Her parents should know better than to yell at the party coaches during someone else's party. You have the right idea to include her so she doesn't feel left out. By inviting her, you are teaching your son, and the other children there, that everyone deserves to be included in a celebration. That said, I suggest notifying the coaches at the gym about the situation ahead of time. I am sure they have handled similar situations before and by giving them advance notice, they can better prepare for possible scenarios with her parents.
– Mommy Dearest