Children's Favorite Toys
What Is Your Tot's Favorite Toy Right Now?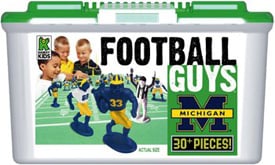 Kids are a fickle bunch. Their favorite food one night could be the root of a temper tantrum the next and the t-shirt they insist on wearing every day for a week can sit in the drawer the following one. But once lil ones find something they like, they can grasp onto it for what seems like forever.
Over the holidays my oldest son received a box of Kaskey Kids Football Guys ($30), a case of plastic football figurines that can be moved across a felt field in a mock game. At first, he didn't know what to do with the figures, but over the course of three months, he and the players have become inseparable. He takes them into the bath, situates them around his place mat at dinner and hides a few in his backpack for school. I never would have thought that a preschooler could become so attached to such nondescript figures.
What is your child's favorite toy right now?