Children's Potty Emergencies
Mommy Dearest: Indecent Exposure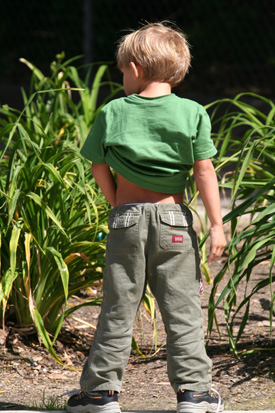 Mommy Dearest –
Yesterday my friend and I went downtown to take our children to the museum and for lunch. While enjoying our meals, I gazed out the window and saw a nanny with a preschool-aged boy and an infant. It appeared that the boy needed to use a restroom, but rather than seek one out (including the possibility of using the one at the restaurant we were seated in), she had him unzip his pants and pee right on a parking meter in the middle of a busy city street – like a dog. My friend and I were appalled, but before we could jump up to say something, they were gone.
Should we have called the police or asked for her employer's phone number? Or should we have kept our mouths shut and minded our own business?
– Stunned into Silence Mom
To see the response from Mommy Dearest,
.
Dear Stunned into Silence Mom –
I have to admit you have me a bit shocked too. Children, particularly preschoolers, are prone to potty emergencies that often have their caretakers searching for restrooms at the most inopportune times, but there is no need to force a child to unnecessarily expose himself in public. Not only is it humiliating for the child, it could be illegal depending on where you live. In this situation, I do believe you would have been wise to call the police and ask the woman for the name and number of her employer. There is no need to stand on ceremony when the welfare of a child is at stake.
Submit a question for this series at the Mommy Dearest Group on our new community page.