Chris Rock Sells Girl Scout Cookies at Oscars
So Just How Much Money Did Chris Rock Raise For the Girl Scouts at the Oscars?
It was one of the funniest schticks of Oscars night, but it wasn't just for fun. When Chris Rock stood before the celebrity-filled Dolby Theatre and told the audience that his daughter needed some help with her Girl Scout cookie sales, he was serious. And throughout the telecast, boy did he help her. After chiding those in attendance to cough up some dough — "I want you to reach into your millionaire pockets and I want you to buy some of my daughter's Girl Scout cookies" — the host announced that they raised $65,243 for his daughter's troop — a number that the Girl Scouts of Greater Los Angeles confirms — enough to likely make Rock's daughters the top-selling Girl Scouts in town.
"Girl Scouts of Greater Los Angeles was thrilled to participate in the 88th Oscars on Sunday evening," the organization said in a statement. "Both Girl Scouts of the USA and the Academy have verified that, through sales of Girl Scout Cookies and donations made during the Oscars, the Girl Scouts raised $65,243 that will benefit girls, allowing them to improve their communities and continue developing into strong leaders."
It certainly helped that Rock called out some of the night's biggest stars as the troop of uniformed Scouts made their way through the crowd.
"Alright, Tina Fey, get that money, girl," Rock called out. "Charlize Theron, yes. Matt Damon, yes. Leo, you made $30 million — come on!"
Rock even "hustled" Vice President Joe Biden backstage.
Biden gave me $20 for cookies... #Oscars pic.twitter.com/rCLbrNXIZI

— Chris Rock (@chrisrock) February 29, 2016
And we can't blame them for coughing up the money. I mean, Girl Scout cookies are hard to resist on a good day, but when you haven't eaten all day so you can fit into your Oscar night gown? They're the best-tasting thing you've ever eaten!
But even more importantly, the Oscar night skit brought some attention to the fact that it is Girl Scout cookie season and you didn't have to be sitting in the Dolby Theater to get them. Using the Girl Scout Cookie Finder app, people everywhere can get their hands on the famous Thin Mints and Samoas!
Read on to see all of the Girl Scout cookie fun from last night!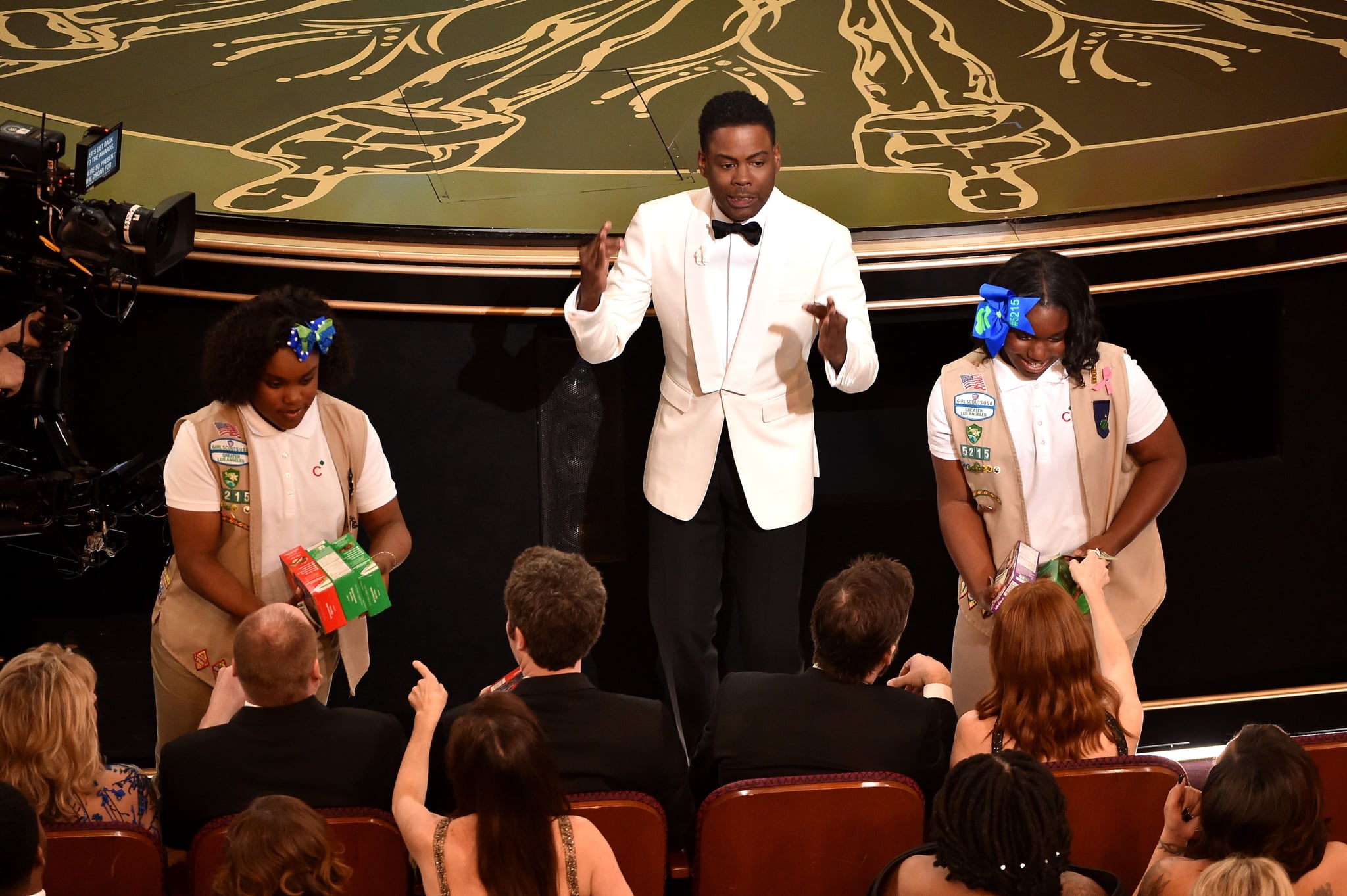 Thanks @oliviawilde and @chrisrock's daughter #TheOscars pic.twitter.com/NIxGilxnQU

— Mindy Kaling (@mindykaling) February 29, 2016
Wasn't as hard as I thought it would be... #oscars pic.twitter.com/H7XZMm4dlG

— Chris Rock (@chrisrock) February 29, 2016