CleanWell Hand Cleaning
Baby Wellness: CleanWell, Live Well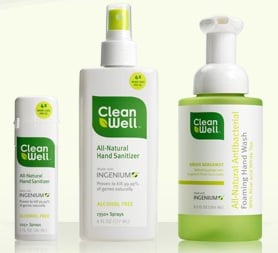 In the midst of one the nastiest cold seasons, it's important to keep your wee one's hands and surroundings clean as a whistle.
Parents of a child born with an immune system disorder worked with scientists to create CleanWell's line of disinfecting hand soaps, hand sanitizers and wipes ($10).
Unlike some of the antibacterial alcohol gels, CleanWell gently kills germs with 99.99 percent natural ingredients like thyme and other plant oils.
The one ounce hand sanitizers and handy wipes are perfect for moms and tots on the go.