Set the tone for a seriously chic baby shower with one of these inspiring color palettes. If equating pink with girls and blue with boys doesn't apply to you (or the mom-to-be you're celebrating), then go beyond the expected and check out 20 of our favorite color combos. There's an endless rainbow of options out there!
Yellow, Orange, Pink, and Red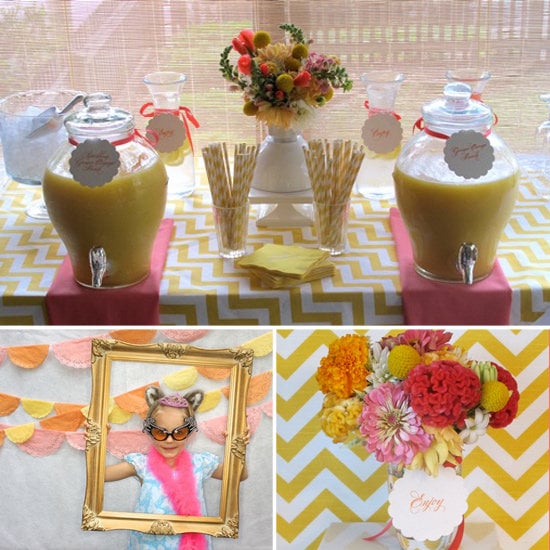 Go bold or go home! A medley of yellow, orange, pink, and red [1] is a vibrant way to fete a modern mama.
Source: Merriment Events [2]
Neon and Gold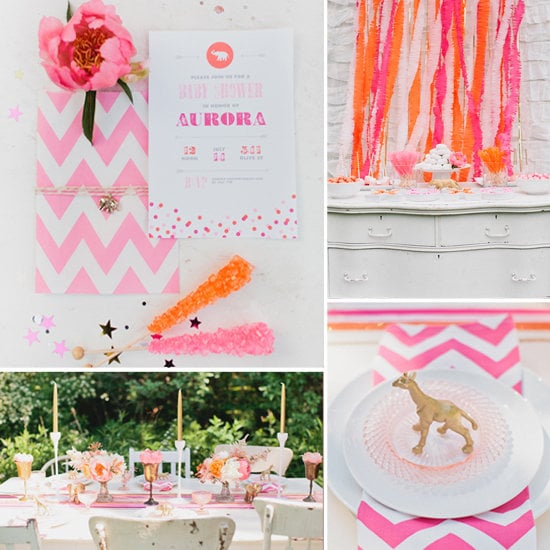 A trendy mom-to-be will appreciate the contrast of neon and glamorous gold [3] at this chic shower.
Source: Canary Grey Photography for Somewhere Splendid [4]
Blue and Orange
Blue and orange [5] make for a modern, chic pairing.
Source: Dear Lola [6]
Black and White
Don't think that black and white sounds fitting for a baby shower? Be inspired by this vintage newsprint-themed fete [7] — it'll likely change your perception.
Source: Tara Rochelle for Layla Grayce [8]
Yellow and Gray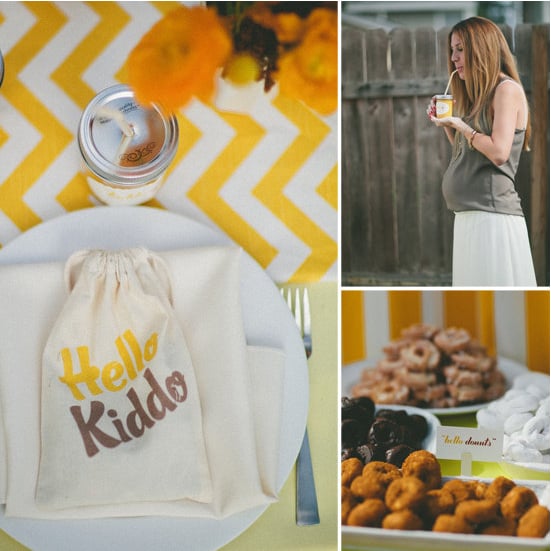 Celebrate a baby boy or girl on the way with a modern yellow-and-gray [9] affair.
Brown, Red, and Black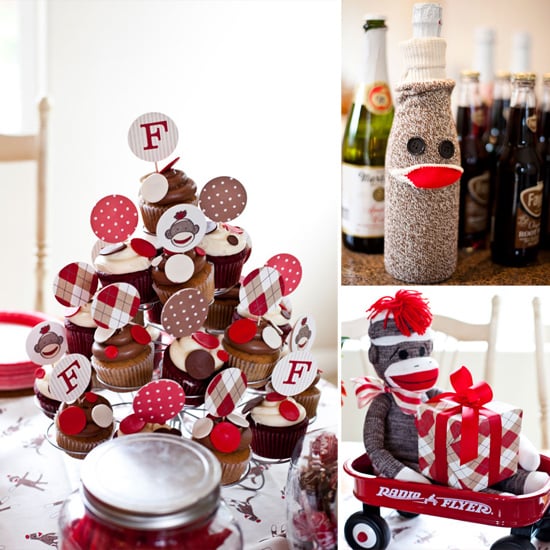 The retro combo of brown, red, and black [10] is sure to evoke visions of the beloved vintage sock monkey.
Source: Jackie Wonders [11]
Red, Navy, and Light Blue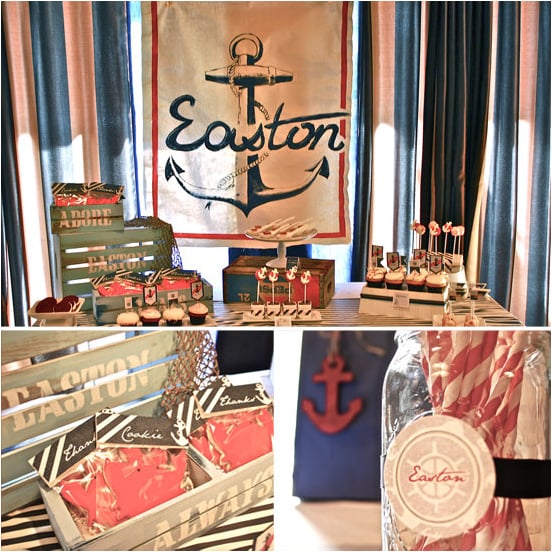 Light blue adds dimension [12] to a classic nautical palette of navy and red.
Source: Honeycomb Events & Design [13]
Aqua and Yellow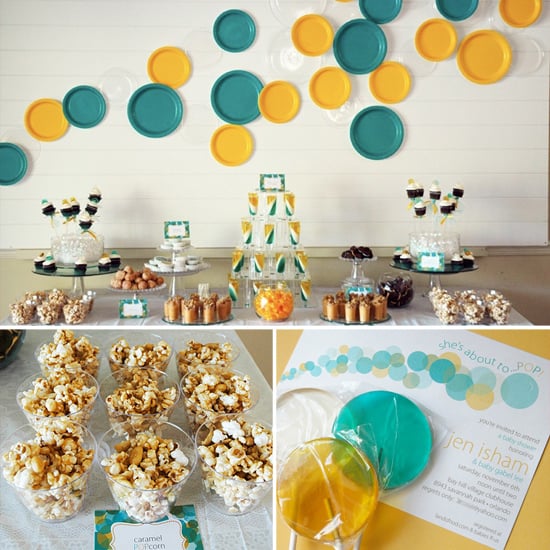 Aqua and yellow [14] might not sound like a natural pairing, but check out this inspiring soiree.
Source:
Pen n Paper Flowers
[15]
Pink and Ivory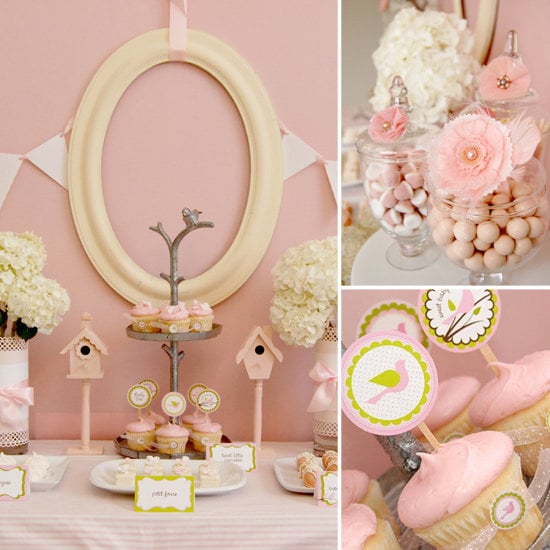 Err on the side of tradition with a feminine pink-and-ivory shower [16] for a baby girl.
Source: Frog Prince Paperie [17]
Yellow and White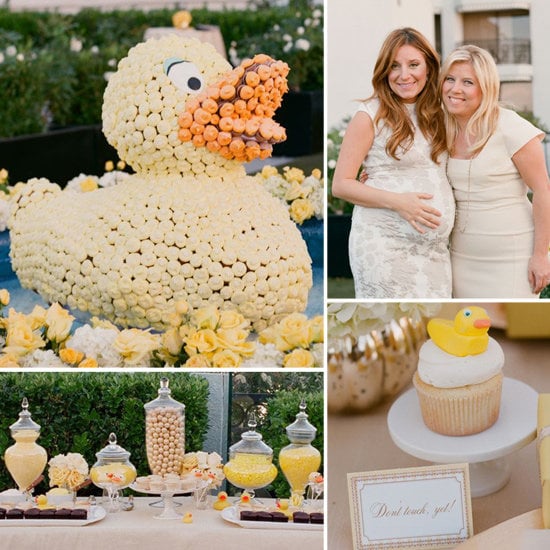 Pale yellow and white [18] can make for a surprisingly elegant "rubber duckie" shower when done right!
Source: Elizabeth Messina [19]
Varying Degrees of Pink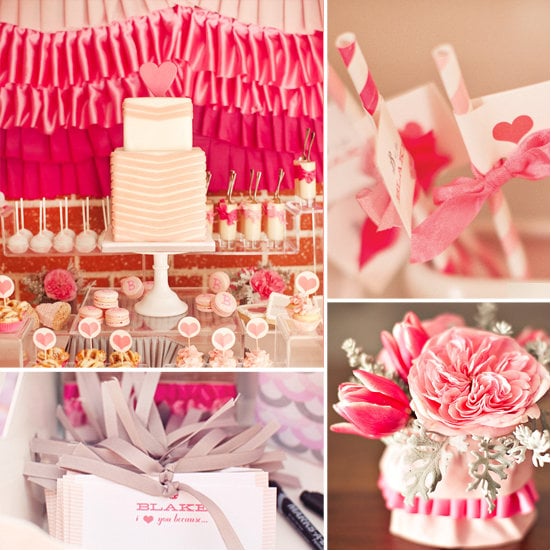 Embrace the ombré trend [20] by incorporating shades from the palest pink to the deepest magenta.
Source: Gabriel Ryan Photographers for Hostess With the Mostess [21]
A Menagerie of Pastels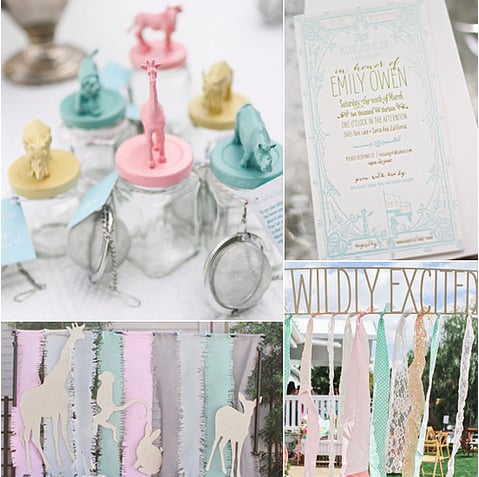 Incorporate a rainbow of the softest pastel shades [22] into your event for a baby-friendly, vintage-y vibe.
Source: Wiley Valentine [23]
Marigold, Chartreuse, and Blue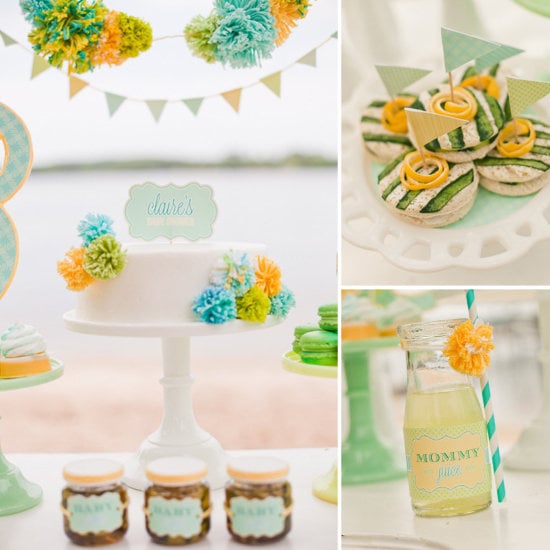 We love the beachy, breezy vibe of a marigold, chartreuse, and blue palette [24] for either a boy or a girl.
Source: Anders Ruff [25]
Baby Blue, Red, and Tan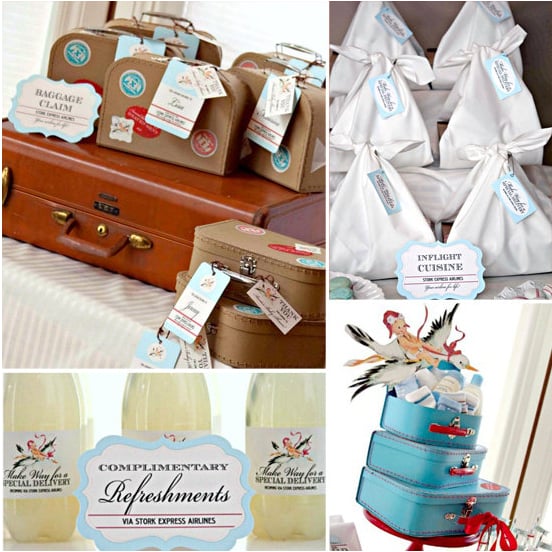 Shades that work well for a baby girl or boy, baby blue, red, and tan [26] combine for a sophisticated and unexpected vibe.
Source: Jen Lee Photography for Loralee Lewis [27]
Black and White and Red, Lime, and Aqua All Over!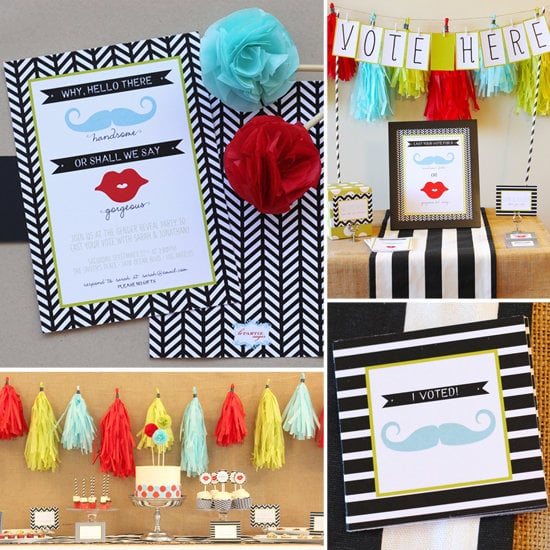 There's a lot going on with this mod black-and-white look that contrasts with bold pops of bright color [28]. It lends itself perfectly to a no frills coed shower or gender reveal.
Source: Le Partie Sugar [29]
Lavender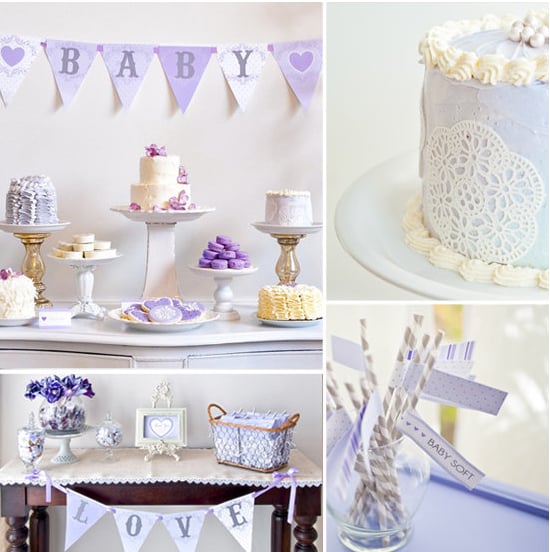 A lovely lavender shower [30] is less expected than pink but still a classic choice.
Source: John McLaughlin for Frog Prince Paperie [31]
Pale Yellow, Gray, and White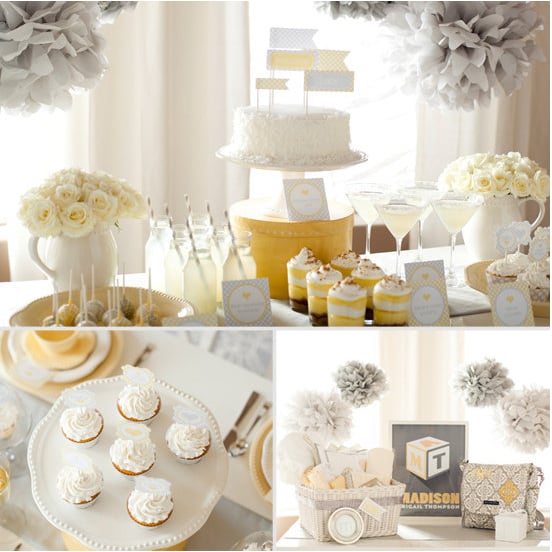 Come rain or shine, a delicate palette of gray, yellow, and white [32] will make your affair one to remember.
Source: Pottery Barn Kids [33]
Baby Blue and Chocolate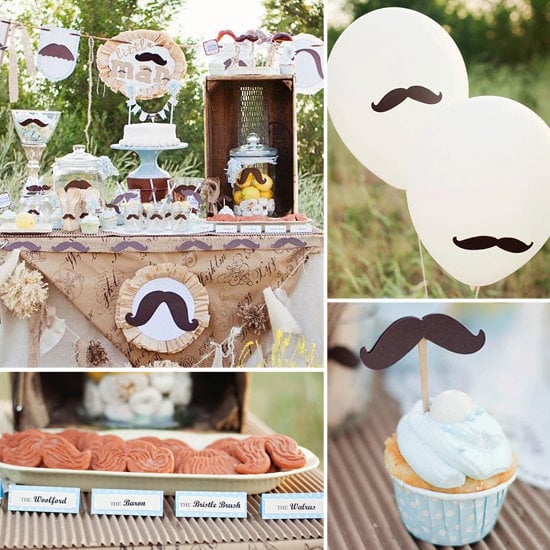 A hip mustache affair is softened up with shades of baby blue and brown [34].
Source: Quilted Polka Dot [35]
Aqua and Red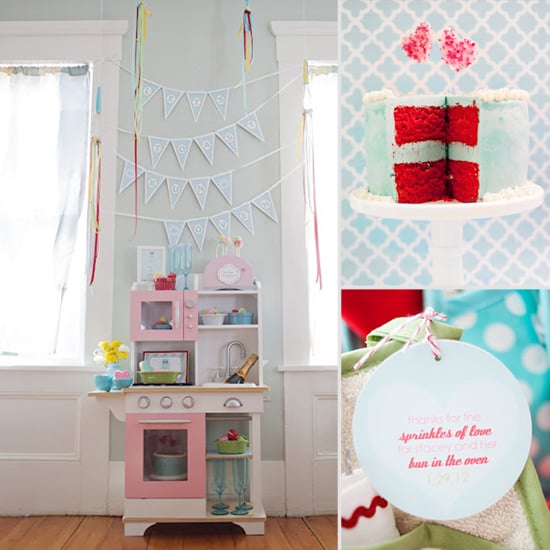 Celebrate a baby boy, girl, or surprise on the way with an aqua-and-red [36] party.
Source: Meredith Nelson Photography for Lil Hoot [37]
Black, White, and Teal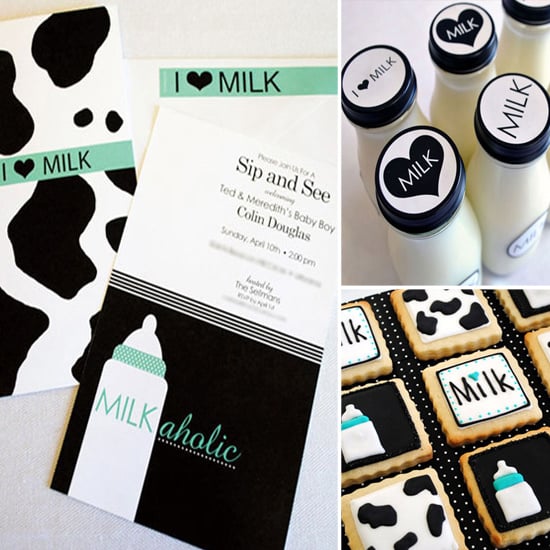 A "milkaholic" theme was a clever take for this new baby's sip-and-see. Be inspired by the idea of combining crisp black and white with one bold color [38].
Source: Carrie Sellman of Half Baked [39]
---
Links:
[1] http://www.merrimentevents.com/2011/09/earthquakes-hurricanes-and-showers-oh-my/
[2] http://www.merrimentevents.com
[3] http://somewheresplendid.com/2012/06/26/party-inspiration-a-luxe-circus-baby-shower/
[4] http://somewheresplendid.com
[5] http://www.lilsugar.com/Orange--Blue-Baby-Shower-Invitations-29494990
[6] http://dearlolaletterpress.com/
[7] http://www.lilsugar.com/Vintage-Newsprint-Baby-Shower-22407411
[8] http://www.laylagrayce.com/
[9] http://www.lilsugar.com/Sunny-Breakfast-Baby-Shower-21666983
[10] http://www.lilsugar.com/Sock-Monkey-Baby-Shower-13147083
[11] http://www.jackiewonders.com/
[12] http://www.lilsugar.com/Nautical-Baby-Shower-21890685/
[13] http://honeycomb-events.blogspot.com/
[14] http://www.lilsugar.com/Shes-About-Pop-Bubble-Themed-Baby-Shower-15691202
[15] http://penandpaperflowers.blogspot.com/2010/12/shes-about-to-pop-baby-shower-all-of.html/
[16] http://www.lilsugar.com/Pink-Bird-Themed-Baby-Shower-21161286
[17] http://frogprincepaperie.com/2011/02/real-party-little-pink-birdies.html
[18] http://www.lilsugar.com/node/26959690
[19] http://www.elizabethmessina.com
[20] http://www.lilsugar.com/Pink-Ruffle-Baby-Shower-22738413
[21] http://gabrielryan.net
[22] http://www.lilsugar.com/Animal-Baby-Shower-From-Wiley-Valentine-29244057
[23] http://www.wileyvalentine.com/
[24] http://www.lilsugar.com/node/23349989
[25] http://www.andersruff.com/custom-printable-parties/baby-showers/11311
[26] http://www.lilsugar.com/Stork-Airline-Baby-Shower-22520295
[27] http://www.loraleelewis.com/blog
[28] http://www.lilsugar.com/node/25131611
[29] http://www.lepartiesugar.com
[30] http://www.lilsugar.com/node/22618136/
[31] http://www.colorandtexture.com/
[32] http://www.lilsugar.com/Sunshine-Baby-Shower-21426643
[33] https://api.shopstyle.com/action/apiVisitRetailer?url=http%3A%2F%2Fwww.potterybarnkids.com%2Fdesign-studio%2Fcelebration%2Fsunshine_baby_shower.html&pid=popsugar&pdata=845231
[34] http://www.lilsugar.com/node/24770548
[35] https://api.shopstyle.com/action/apiVisitRetailer?url=http%3A%2F%2Fwww.etsy.com%2Fshop%2Fquiltedpolkadot&pid=popsugar&pdata=843498
[36] http://www.lilsugar.com/Bun-Oven-Baby-Shower-22723449
[37] http://meredithnelsonphoto.com
[38] http://www.lilsugar.com/Coed-Milk-Cookies-Themed-Baby-Shower-20292613
[39] http://www.thecakeblog.com/2011/06/milkaholic-sip-see.html

---