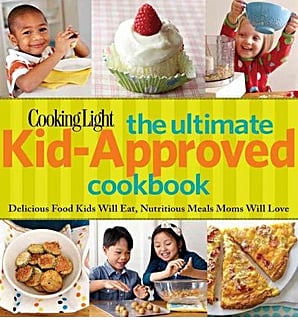 As school begins, it's even more important to feed your kids nutrient-packed meals to keep their brains and bodies healthy and active. Written by a registered dietitian and mom, Carolyn Land Williams, M.Ed., R.D. developed Cooking Light: The Ultimate Kid-Approved Cookbook ($19.95) to include delicious and nutritional meals that kids can help prepare and the whole family can enjoy together.
If you are trying to change the diet of your kids, the book includes a quick breakdown of the main food groups and daily serving recommendations for each age group and offers healthy, kid-approved fruits, grains, vegetables, protein, and healthy fats.
Learn more about this kid-approved cookbook.
The best part of the cookbook is the thorough tips and safety measures for you to enact in your kitchen with your children. Each recipe includes prep that younger kids can do and more complicated tasks for older kids. With over 100 recipes, you will be sure to find ones that your kids will love making and eating like Blueberry Power Muffins, Ranch Chicken Pita Pockets, Shrimp "Fried" Rice, Spring Peas With Pancetta, and Lemon Angel Food Cupcakes.
Some of the reasons Carolyn recommends cooking with your kids include increasing your child's self-confidence, practicing working as a team, developing fine motor skills, understanding nutrition, and bettering math skills.