Couple Turns to Facebook To Name Their Baby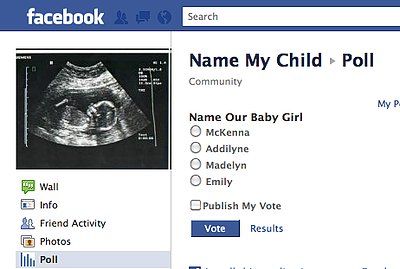 Did you get help from friends or family when you were trying to think of a name for your baby? An Illinois couple has turned to Facebook users for help with naming their coming baby, who is due ealy next year. Lindsey Meske, 24, wanted to name their second daughter McKenna or Addilyne. Husband Dave Meske, 27, wanted Madelyn or Emily. Unable to agree, they created a Facebook poll and are allowing strangers to weigh in.
Anyone can vote on the poll on their Facebook Page, which features an ultrasound scan of the baby to help your vote be as informed as possible. The Meskes will keep the voting open until at least December, and their baby girl is due in January.
Would you turn to strangers to help you decide on your child's name?