Crab Recipes for Kids
Steamed Crabs Get Kids Cracking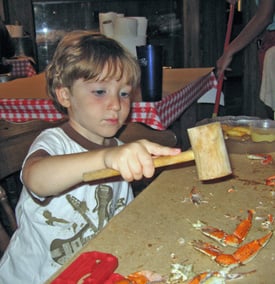 Open your tot's taste buds to delicious fresh water creatures! A friend of mine was recently on the eastern shore of Maryland when her family decided to hit up the local crab house for a night of cracking and picking their way through steamed blue crabs. She wasn't sure if her preschooler would enjoy the experience as much as she had as a child until the wooden mallets arrived at the table and his eyes lit up. As the diners made their way through multiple bushels of crabs, the lil guy had at the crab legs and a new tradition was born.
To see how the mama kept her tot busy and his tummy full when she returned home,
.
My friend bought a bushel of crabs to take home and then had her son help separate the meat from the shells so they could make crab cakes for dinner. Check out the recipe below!