Creating New Birthday Traditions
5 Tips to Creating Treasured Birthday Traditions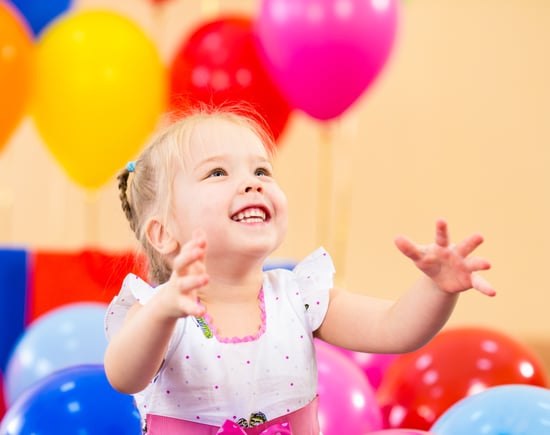 Creating an annual birthday tradition is a great way to make your child's special day even more memorable. As Circle of Moms member Ashley B. shares, "I'm wanting something that me and my son can go and do every year for his birthday — something that we can have a tradition of doing every year on his birthday that he gets excited about — something special just for him." If you, too, want to start a special birthday tradition with your child, here are five great suggestions from Circle of Moms members.
Keep reading.
1. Birthday Traditions Involving Keepsake Collections
Circle of Moms member Miranda K. shares that one way to make birthdays even more memorable is to do an activity that involves creating a keepsake commemorating the day. "If he likes arts and crafts, maybe a ceramic place where you paint something and then they glaze and fire it for you," she suggests. Elizabeth M. takes her children to make a brand-new teddy bear at the Build-A-Bear Workshop every year. "It's their birthday bear," she says.
Other moms like Shannon and Erin J. suggest creating memorabilia that will be appreciated as your child matures into an adult. Both suggest buying daughters a charm bracelet, and then getting a charm for each year depending on what your child is interested in. Shannon suggests a tiny foot for baby's first year, an apple when your child enters preschool, and a cheerleading charm, for instance, if your daughter later is involved in that activity. 
Jocelyn S. and Carolyn S. also like the idea of giving jewelry: "If I have a daughter, I want to get her one pearl every birthday, so eventually she can make a necklace," Jocelyn says. Carolyn says her friend bought a small gem each birthday for her daughter, and when she turned 21, she got a ring set with the 21 gems.  
If jewelry is not your thing, then Kelly M. suggests purchasing a set of coins for each year (a penny, nickel, quarter, etc.), which is what she received from her grandfather. "I have all of these from when I was born, and they came sealed in a see-through pack," she says. She suggests stamps could be fun for families that move or travel a lot.  
Or, scrapbooking enthusiasts suggest collecting papers and photos. Jennifer A. purchases a newspaper on her daughter's birthday so that she can see what happened on her birthday every year.
2. Birthday Traditions Charting Kids' Growth  
As you make memorabilia, some Circle of Moms members suggest capturing images of each birthday so children literally can see how they've grown. For instance, Jennifer M. says she planted a tree when her daughter was born. "Every year on her birthday we stand her beside her tree and take a picture." Pauline I. takes handprints of her daughter each year and places them on her wall along with a photo so she can see how much she's grown. Stacy C. bought a special birthday hat and takes a picture every year of her child with the hat on.  
And every year, Wendy C. says, she takes a picture of her daughter wearing her wedding dress. "We started out just laying her on the dress as an infant, then she toddled around with it hanging from her shoulders, and now she is 6 and can actually 'put it on.' We also do a picture every year of my son sitting on his dad's fire engine. Same idea: he started out as an infant just swaddled up on the bright red background. He's 10 now, and he looks forward to his special picture every year!"
3. Birthday Meal Traditions

If you're a whiz in the kitchen, then by all means use that to your advantage, Circle of Moms members say. Becki O., for instance, says she and her husband wake up their daughter at the time of her birth (8:19 a.m.) and always make her favorite breakfast of German puff pancakes.
Stina B. also makes her birthday child's favorite meal. "For my son's first birthday, it was homemade mac and cheese with peas. His cake was strawberry shortcake. . . . He's turning 5 this year and we'll be having pizza, chocolate cake, and chocolate ice cream. He loves chocolate, I get cheesecake, dad gets German chocolate." Last year, Stina says, she also started making chocolate chip pancakes for birthdays: "A stack of pancakes, one for each year, with the rare presence of chocolate chips."
4. Birthday Balloon Traditions
To add to the festivities, Stina hangs balloons around her house and puts one dime for each year of age inside one balloon. "This obviously isn't for a first birthday unless there are older siblings, but as they get older, it's pretty special to find the money-filled balloon and get six, seven, eight, etc., dimes. Since they all get popped at once and then the bits cleaned up in one fell swoop, you don't have balloons all over for the next week."
Camille N. also celebrates birthdays with balloons. She explains: "The night before the birthday, blow up heaps of balloons (I do about 50 to 100), and while they're sleeping, throw them all into their bedroom. When they wake up on their birthday, they will wake up to a sea of balloons. I do this every year for my boys (who are now 12 and 13 years old) and they still love it."
5. Birthday Dessert Traditions
Many Circle of Moms members carry on special birthday dessert traditions. Deanna, for example, says her husband's family always made him big chocolate chip cookie vanilla ice cream sandwiches. "It influenced him growing up to the point where he wants me to make them still on his birthday," she says.
Marlene M. recalls her mom always made a themed, homemade cake for her birthday. "She wasn't a professional by any means, but we all looked forward to our cake with great anticipation. She got better over the years and certainly more creative. It's a gift of love that she'll know came from your heart."
Misty P. also makes a special cake but gets her son involved before the actual birthday by letting him choose what the theme will be. "My husband and I make the cake ourselves, and it's never just a normal cake. One year we made a 3D train, then another year we made really cool dinosaur cake. And last year I made the Pokemon ball that was hard. My son really enjoys all aspects of his party, but his favorite part is the cake — he doesn't get to see it until his party. It's something inexpensive and I always have fun making it, and it makes him happy."  
Caitelyn S., meanwhile, incorporates a family tradition in which after the birthday child has blown out the candles, the candles are relit and other members of the party, from the youngest through the oldest, blow the candles out in order to send good wishes and love to the birthday person. "It's lots of fun, and means that the person gets shown how much they are loved!"