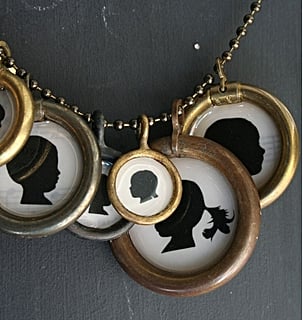 I don't know about you, but I could stare at my children's faces all day. That may be the reason I am smitten by classic silhouette hangings and pieces.
These Custom Silhouette Pendants ($60) allow you to wear your undying love for your petite loved ones around your neck. The artist, Whitney Phippen, takes a photo of your child's profile, edits it a bit, and coats it with a thin layer of resin. She then frames it with an antique drapery ring...and voilà! Divine personalized keepsake!
Looking for a less dramatic way to display your lil one's pout and pony? Check out some of the other custom silhouette options in the widget below.