Cute Onesies For Babies
Peekinz Diaper Check Onesies: Kid Friendly or Are You Kidding?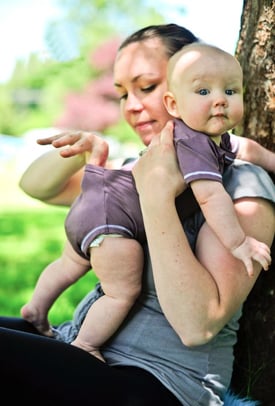 There's a move that isn't taught in baby and childcare classes, but that moms seem to perfect within days of giving birth. It involves a swift sweep of their lil one into the crook of mama's arm while the other hand simulataneously pulls out the top of the tots diaper to see if it is soiled. It is so common that most moms don't even notice they are doing it. But when tots are dressed in onesies, the diaper check runs into a roadblock.
Peekinz aims to help the nappy check process with a line of onesies and sleepwear featuring a built-in diaper check pocket. The Peekinz pocket is little more than a slit in the lower back of the garment to facilitate quick diaper checks. Available in onesie ($24) and one-piece sleeper designs ($34), the garments are adorned with the company's lil teddy bear logo.