DILF: When Did Dads Get So Hot?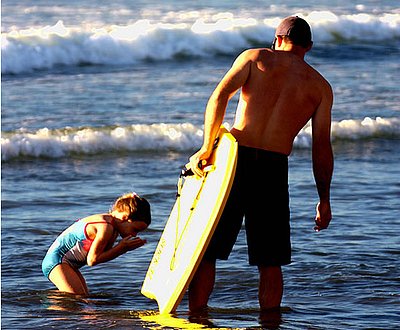 We've all heard of the expression 'MILF,' but now people are talking about 'DILFs." Yes, it stand for "Dads I'd Like to...", and no, we didn't make this up. As writer Shawna Cohen explains, a DILF is "the guy you see – clad in a signature white tee, worn-in jeans and Aviator shades – pushing a souped-up Bugaboo along downtown streets, play wrestling with his children in the neighborhood park or feeding them quartered grapes while nursing a coffee at your local hangout. And he's hot."
The key to DILF-dom (and it's different from MILF-dom), is actually in the combo of hotness and quartered grapes. In other words, the dad needs not only to be attractive, but to be showing his tender heart in the way he cares for his child, something men don't normally get to put on display.