A Day in the Life of a Mom of Three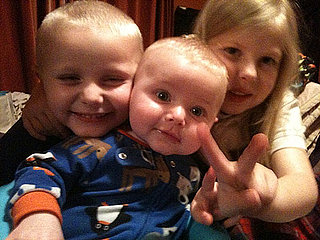 Since my lil guy was born, people frequently ask me what being a mom of three is like. I usually answer that it's sort of like having two kids, but crazier — we're (my husband and I are) out numbered, the rewards are greater, my days are fuller and the unexpected continues to happen. I also can't imagine my life being any other way. Here are a couple of examples.
The other night, my husband was working so I gave the kids baths before we sat down to dinner. We were about 10 minutes into eating, when I realized I was the only one clothed.
I have a mini heart attack every time my baby pulls a blanket over his head even though he erupts in a fit of laughter while playing Houdini to get out.
My daughter thinks "being tricky" is genetic and credits her prankster ways to her aunt and uncle. She tells her brother that his stuffed tiger comes alive at night so I have a three-foot striped beast sleeping in the hallway
When my three-year-old gets really upset he "fires" people. But, if you sense it coming and tell him you quit, he runs off like a wounded CEO. Maybe he's the next Donald Trump?
I had to take my kids to Costco during its peak hour last Saturday to shop for a party and emerged with $300 worth of stuff, my daughter riding the cart like a scooter, my preschooler in the front seat, my baby in a carrier and a look of relief on my face. But, it was too early to declare victory because right when I was about to, my son had to pee and I realized my lil guy had thrown up all over me.
What is a day in your life like?