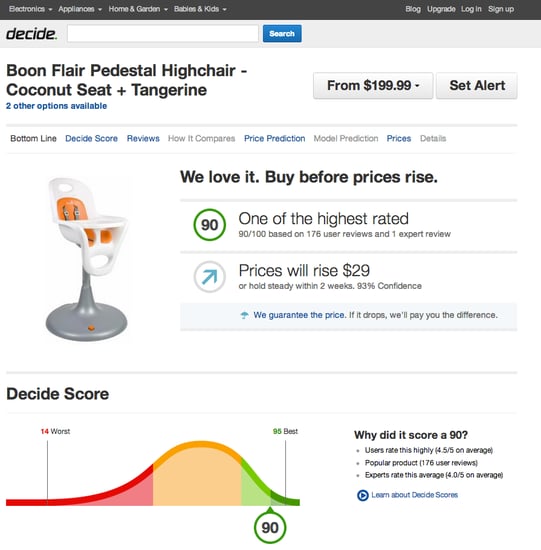 I'm the first one to admit that I'm a bargain shopper. It's great for my wallet, but not for my time-starved, working mother schedule. Spending endless hours comparison price shopping is the last thing I really have time for these days. So when I heard that Decide.com was expanding to the baby and kids realm, I was anxious to test it out.
The site not only provides purchase recommendations based on user reviews (all products receive a color coded and numerical rating from one to 100), but it uses proprietary price-predicting technology to determine if the price is likely to rise or fall in the next two weeks, so you won't feel burned when the high chair you purchase goes on sale the day after it ships to you. Playing around, I found it to be an easy way to make a decision about anything from high chairs and strollers to a set of Legos. The high chair I was looking at was ruled a "Buy before prices rise" while the stroller received a "Wait for prices to drop" mention (and it told me how much they should drop in the next two weeks). It made purchase decisions a cinch, freeing up my evenings for the first time in ages.
I kept looking for a catch, but couldn't find one. The service is free for all "Decide Scores" as well as up to eight price predictions. After that, there's an annual $30 membership fee that gives you unlimited access to price predictions for the year. So tell us, would you pay for access to such a site?