Delightful and Entertaining Wooden Toys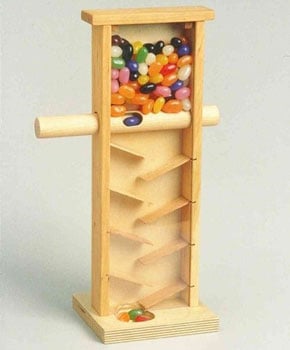 One of the highlights of visiting grandpa's house is the ability to load up on jelly beans. My dad keeps a gumball machine full of the colored beans waiting for visitors, especially the tiny ones. The only thing that could make the tradition better would be making a spectacle of it, which is exactly what this jelly bean dispensing toy does. Youngsters can watch the treat trickle down the levels until it reaches the bottom and awaits their excited lil hands.
For parents who love the authenticity of wooden toys but don't need the candy, there are various other old-school gadgets that are sure to be crowd-pleasers for young and old folk alike.