Delilicious: Peanut Butter Bread My son and daughter love peanut butter sandwiches and we often invent our own versions with flat bread or tortilla rolls. But, Paula Deen's Peanut Butter Bread, which can be served warm or at room temperature with some homemade jam or chocolate spread, is enough to make any mini mouth water. To get the delicious recipe to make with your lil darlings,
.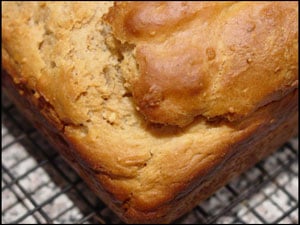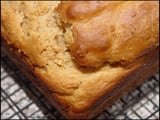 Ingredients
2 cups all-purpose flour
1/3 cup sugar
1 teaspoon salt
4 teaspoons baking powder
1 1/2 cups milk
1/2 cup peanut butter
Directions
Preheat oven to 375 degrees F.
Combine dry ingredients. Add milk and peanut butter. Pour into a greased 8 by 4 by 3-inch loaf pan. Bake for approximately 50 minutes. Serve with your favorite jam.
Source
Information
Category

Breads, Bread