We're excited to share this post from our partners at BabyCenter! Every week, we will be bringing you the best parenting and lifestyle stories from the experts at BabyCenter, including this post from Jennifer Borget about what she'll do differently with future pregnancies.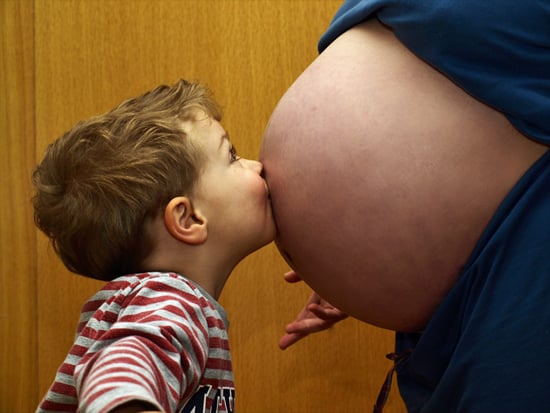 I sometimes wonder, knowing what I know now, what would I do differently with my next child — whether it be with my pregnancy, the birth, or shortly after? I love the way things went down with my daughter, but that doesn't mean I'm not up to try things differently.
I mean, what if I had given my daughter a pacifier when she was small? Would my boobs have gotten an occasional break? Next time I'll try that.
Related: What's Your Parenting Pet Peeve?
Us first-time moms haven't a clue what we're getting into. Now that I've walked this path and learned a lot along the way, I have a short list of things I'll do differently with my next child.
Not find out the gender: This is something I never thought I'd be able to do. I'm a huge planner. But since I really wanted a girl, and got that the first time, I've gotten all of the pink out of my system. The next nursery will be majestic blue regardless of gender, so I don't really need to know beforehand. It will be a fun challenge for me and a great surprise for us all.
Get a 3D/4D ultrasound: I didn't do this last time, but I envied all of my friends who did. Seeing their cute little faces on the screen before they are born is adorable. And if I'm not finding out the gender, this could be my alternative fun.
Buy maternity clothes: I refused to buy them the first time because I thought it was a waste of money. I should have bought them the first time then saved them for next time, but whatever, I'll do the opposite. But I won't be stretching all of my cute nonmaternity tops.
Not freak out about the birth: The first time around I read too many horror stories and worried about every little thing — whether or not I'd birth naturally, or if I'd need a C-section. I spent so much time stressing over a teeny, tiny portion of my daughter's life.
Automatically add two weeks to my due date: I was so sure my daughter would come before her EDA. Then, I agonized every day after that date passed for a week and a half. Next time, once I calculate my due date, I'm adding on two weeks so I don't have that crazed feeling when someone asks me when my due date is and I have to say "last week."
Have a water birth or get the epidural ASAP: Unfortunately it's one or the other. I hear water helps with pain, so if I go that route and it helps, cool. If not, I'm not going to wait like I did last time. Hook a sista up!
Move the baby to his/her room sooner: Last time my daughter slept in our room for about five months. The moment she was in her own room she started sleeping better. I'm keeping that realization in my back pocket for next time.
More great stories from BabyCenter.com:
Did you space your kids the smart way?
Your daughter is not pretty.
7 must-take holiday photos.
Thankful for my miscarriage.
How many gifts per kid?
What things do you plan to do differently next time around? Or did everything just work out perfectly for you?
Source: Flickr User rahego