All moms have secrets, but do mothers of multiple children have more? Once a woman has a few kids, she knows the perfect mother doesn't exist [1] and that enables her improvise in lots of different situations. As long as the kids are happy — right? Fresh back from maternity leave, I'm ready to divulge the shortcuts I've taken to get through the days since having my third baby. Set yourself free by sharing your secrets in the comments section.
My life is a mess...
A couple of weeks ago, my son climbed up the cabinet to toss what he thought was a bag of popcorn to his sister and it (a bag of flour) exploded. When they hopped into the bath after making flour angels, their hair turned to paste.
Diaper bags are the perfect vessel for smuggling...
candy and small water bottles into the movie theater. It's not even about paying $5 for a bag of M&M's, but an easy way to avoid carrying snacks and drinks in addition to my baby while trying to get my other two kids on the escalator before the credits roll. Splurge for the popcorn because it comes in one container.
Source [2]
The carpool lane is bra optional...
well, it is when I oversleep and have to rush my daughter to school before the bell rings. A baggy sweater or jacket hides a multitude of sins. Sleeping in a fitted tank top helps too.
Source [3]
The laundry piles up...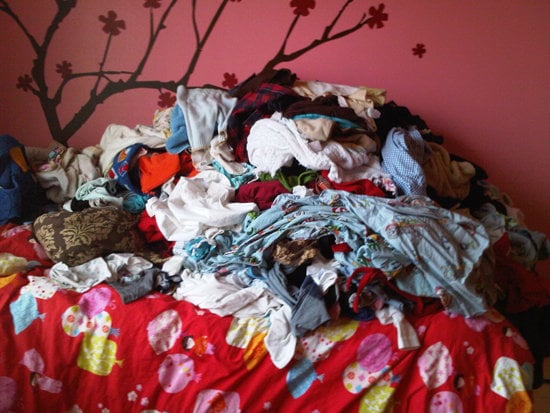 Five people can create a clean mountain of laundry a couple of times a week. Sometimes it's hard to get it all sorted, folded and put away, but my kids are happy to jump in it.
A diaper has many uses...
the most amazing one is probably as a postpartum ice pack [4], but my newborn's Pamper came in handy when we were driving, and my potty trained preschooler really had to pee and there wasn't a restroom in sight for him. Voila!