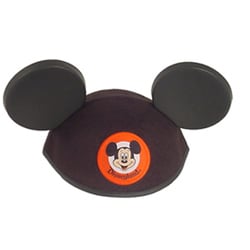 Baby will go from the birth canal into a Disney onesie — that's the latest effort on behalf of the House of Mouse. According to a New York Times piece, the beloved brand has a new target: infants and new moms. The article said:

Late last month, the company quietly began pressing its newest priority, Disney Baby, in 580 maternity hospitals in the United States. A representative visits a new mother and offers a free Disney Cuddly Bodysuit, a variation of the classic Onesie.

In bedside demonstrations, the bilingual representatives extol the product's bells and whistles — extra soft! durable! better sizing! — and ask mothers to sign up for e-mail alerts from DisneyBaby.com. More than 200,000 bodysuits will be given away by May, when Amazon.com is set to begin selling 85 styles for a starting price of $9.99 for two; Nordstrom and Target will follow with more Disney Baby items, including hats.
While Disney hopes to secure lifetime customers with their latest initiative and already has plans to make more gear and launch a park incentive program for moms-to-be; I'm curious if you want the corporation involved in your child's first days of life?