Dizzy Dancers Are Beyblades For Girls
Tops Are Making a Resurgence, But You Won't Recognize Them!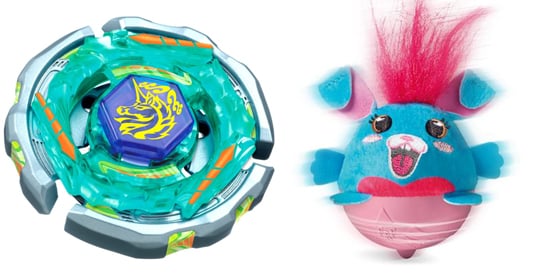 Everything old is new again — just with a different spin on them. Tops, the classic toys that have occupied tots for hundreds of years received a 21st century makeover with the introduction of Beyblades. Using a "launcher," or a rip cord, the tops then spin on the floor or in an arena where they battle to see which can spin the longest. The sleeper-hit holiday toy of the season, Beyblades were one of the most requested toys among kindergarten to fifth-grade boys last month.
Now Hasbro is set to put a decidedly girlie spin (pun intended) on the age-old toy. In March, the company (which also distributes Beyblades) will expand the FurReal Friends line with the introduction of Dizzy Dancers ($9) — a collection of "twirling, dancing pets." Using the familiar rip cord (now called a Dizzy Cord), the stuffed animal-topped toys can be launched to spin their way around the home. The cute characters are interchangeable, so they can be mixed and matched to create custom pets. Each package will also come with a "Twistin' Tricks Card" to teach lil ones new ways to spin.
Similar to Lego's recent launch of girl-friendly Lego Friends, how do you feel about female versions of popular toys?