Do Parents Use Car Seats in Taxi Cabs?
Mommy Dearest: Car Seats and the City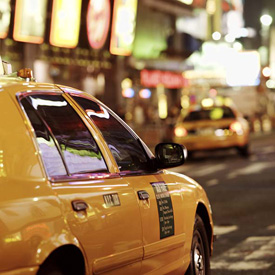 Mommy Dearest —
We are planning a trip to visit friends in New York City and are staying at a hotel on the opposite end of the city from where they live. In making our plans for the trip, we discussed meeting up at a central location, and our friend said the best way to get there was via taxi. I mentioned that I was not planning on bringing a car seat with us (I found a car service with car seats to carry my toddler and I from the airport to the city) and she laughed and told me that no one uses car seats in taxis — they simply put the child on their lap and hold on. I was appalled. Aren't car seats required whenever you transport a child in the car? What would you do in this situation?
— Concerned About Car Safety Mom
To see the response from Mommy Dearest,
.
Dear Concerned About Car Safety Mom —
For most parents, car seats are up there with cribs and strollers in terms of key new baby purchases. For urban dwelling parents, many of whom don't even own cars, the car seat is often one more space-consuming baby accessory that spends most of its time gathering dust. Though the NYC Taxi and Limousine Commission is exempt from child safety restraint laws, you must decide for yourself what makes you most comfortable. If you opt out of the taxi option, you won't be alone. Fifty-four percent of LilSugar readers have said they won't drive without their lil ones secure in their seat. Perhaps you could find a bus or subway route that will get you to your destination without the worry or toting along a car seat.
— Mommy Dearest
Submit a question for this series at the Mommy Dearest Group on our new community page.