Do You Know About Your Mother's Hospital Experience?
Do You Know About Your Mother's Hospital Experience?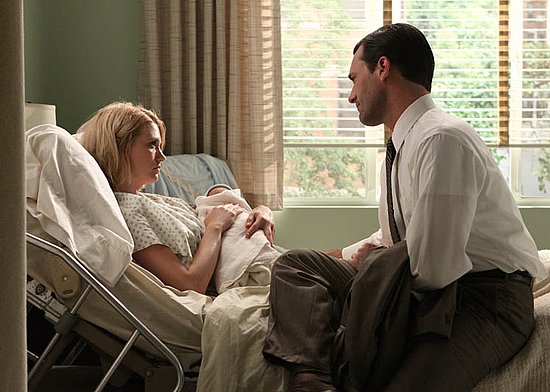 Oh mad mama! It was not easy to watch Betty Draper give birth on this week's episode of Mad Men and consider the bizarre and bygone birthing methods of the '60s. Betty and Don arrived at the hospital together, but he was quickly whisked to a daddy-to-be waiting room and she was wheeled away and told to prepare to be shaven and given an enema. While glowing and beautiful as ever, Betty was still grieving the loss of her father and an utter wreck, so the moment she was given procedural (but mysterious) drugs to calm her nerves she wigged out. BuzzSugar has a look at the maddest moments from the episode, but I am glued to the terrifying, lonely, emotional and hazy delivery room experience.
Modern moms are given choices. You can have a water birth or do it in a hospital bed. You can go drug-free or take carefully administered drugs to ease the pain. You can schedule your down-there maintenance at a beauty bar or go natural. You can hold your husband's hand or cast him to the waiting room. It's frightening to be reminded that such pregnancy and delivery choices weren't always available to women (and still aren't in many places in the world). Do you know if your mother or women in your family got the Betty Draper treatment in the hospital, or were they able to control their birthing experience?
Photo courtesy of AMC