Dr. Oz's Top Three Concerns For New Parents
Interview With Dr. Oz: Top Three Concerns For New Parents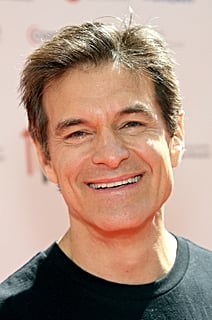 Most kids turn out all right! That's something Dr. Mehmet Oz says that nervous new parents should be reminded. It's important to let children live! The cardiac surgeon and author, whose latest book You: Raising Your Child (The Owner's Manual From First Breath to First Grade) ($14) is a must read, speaks from experience, as he is also a father of four! But, I recently had the chance to chat with him about a few important issues that should be of concern.
LilSugar: How conscious should parents be of Bisphenol-A (BPA) and how nervous should we be because it's in so many things from shampoo containers to dishes to bath toys?
Dr. Oz: I'm concerned about it. It's an estrogen disruptor. The younger the child is, the more concerned I am about it. As you get older, I'd probably relax a bit on the stuff because as an adult, it isn't all that important we don't think, but why would you take a chance? So hard plastics, I'd stay away from. Those receipts — those carbon receipts at the store — those have lots of BPA in them. Pay attention to the stuff. The big overarching concept is that you vote with your pocketbook every time you buy these things so if you are willing to buy stuff that isn't carefully prepared for you than people will keep making it! There's usually a reason why they are making it with BPA — it's cheaper.
LilSugar: Would you say BPA is in the top three concerns for a parent of a new baby?
Dr. Oz: Oh, yeah. I'd put it in top three. BPA and phthalates (in the plastics) and probably the hormones and pesticides and chemicals we find in our water and food supply now. I'd probably put those in the top three.
LilSugar: What do you think is the cause behind early on-set puberty?
Dr. Oz: I think the issue with early puberty is two things — obesity and chemicals released into the food supply because of pesticides and because of hormones given to animals. Those are the things I worry about. We throw away our prescription drugs into the toilet usually — we flush them away — but, they don't disappear, they just get dissolved into water. If you look at the water around big cities, there's almost no male fish anymore because there's estrogen compounds in all that junk and fish do not declare their gender until they are already born and maturing so they morph to that and you're getting all these female fish.
Check out other portions of our interview with Dr. Oz here!