The Duggars Are Open to More Children
Jim Bob and Michelle Duggar Are Open to Family Expansion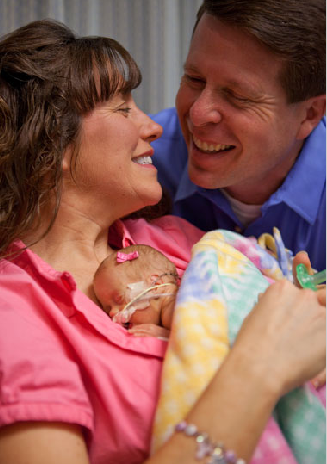 Michelle Duggar may awe fellow moms by raising 19 children, but this Sunday will be a bittersweet holiday for the mother because her baby is back in the hospital. Dealing with the ups and downs of having a preemie (little Josie was born at 25 weeks gestation) has not rattled the Duggars' faith or family plans. In a recent interview with Radar Online, the large family's matriarch said she and her husband are open to growing their brood biologically or, possibly, by adoption. Here are the highlights:
On Josie's progress: "She is up to 5 pounds 15 ounces. She's just taken off with her weight gain these last couple weeks now that she's back at the hospital and so we're really thankful for that."
On her faith being strengthened by Josie's arrival: "We had no where else to turn. There was nothing else I could do to help Josie other than prayer. I could cry out to God and cry out for mercy. Nothing is by accident and he allowed Josie to be born that day and we know that God has a special purpose for Josie."

To see what Michelle had to say about having another baby and adoption,

.

On her plans for family expansion: "We would love more! I'm 43 almost 44 this September, I know that my mommy years are probably numbered and I don't know how many more children God will see fit to give me."
On being inspired by another family who adopted children including one with special needs: "They inspired us and it is something we've been praying about because we do love children. Each child really is a gift and that just doesn't mean just our children. We asked the Lord to give us a love of children the way he loves children. That is something that we've prayed about and we'll just see what the Lord has in store for our family in the future."
Photo courtesy of TLC