An Eco Fairy Party
OnSugar Blog: the Cutest Eco-Fairy Party
Lots of moms like to think out loud, and House of Anaïs is one of them. Here is one of the latest posts on her House of Anaïs blog.


A little while ago, we went to a lovely birthday party, and the kids absolutely loved it. Give the young son some glue, and he is glued to the activity forever and ever. Give the girls some fairy wings and fancy decor, and they will make their own fairy tale. Give the parents some mimosas and the most amazing sweet and savory treats, and they will not want to leave the party ever.
Since the hosting family is a pretty green family (think of growing chickens in the middle of city), we chose more sustainable wooden presents, and this time, they all ended up being from Melissa & Doug. The presents are always a hard one for me, as the etiquette is not so simple to figure out — when you have multiple kids, should you get a little present for each to give, or just have one together?
And talking about presents, I think it's great experience to let children help shop for the presents and put some thought into what their friends might like, but with so many parties to go to in a year, I am thinking that our shopping might move more online, as everything always seems to be discounted somewhere . . . Sad, but at the end of the day, it will save a lot of money.
Keep reading to see all of the details from the party!
I think we have permanently switched to homemade cards since the kids love crafting them so much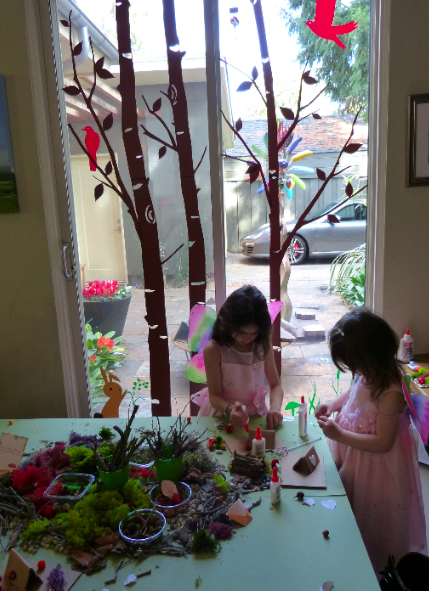 My fairies at the workstation.
Such a cute and fun activity, crafting fairy and elf houses using moss, little pinecones, sticks, and gravel, among other materials.
Aren't these the sweetest-ever party mementos? Wings for fairies and vests for elves. And these customized presents.
Finger puppet owls. Twins currently love reading about the three little owls who love their mommy, so this was a perfect present. We have also planted our seeds and anxiously wait to see what, if anything, grows of them . . .
Cute wooden toys, and sadly for the local shop, it seems that you could find them much cheaper, as I noticed afterward with these toys.
Want to see more? Start following OnSugar blog House of Anaïs or start your own OnSugar blog, and we may just feature your post on LilSugar.