For fun, entertaining activities that are easy on both your wallet and the environment, take a look at these eco-friendly arts and crafts! With a mix of upcycled household products, clever painting ideas, and new uses for old items, these creative crafts are a great way to celebrate the eco-conscious spirit of Spring. Next time you're looking for a simple rainy-day activity, turn to these 33 eco-friendly crafts for kids!
Apple-Print Placemats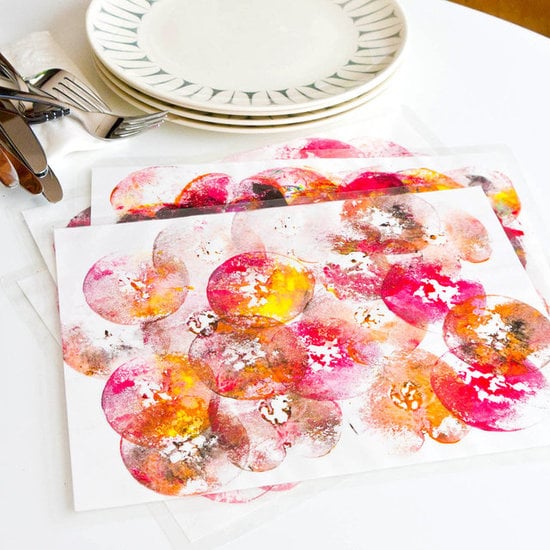 These colorful apple prints can easily be transformed into placemats [1] with the help of some professional lamination. Using Fall colors makes these prints really pop.
Source: POPSUGAR Moms [2]
Button Branch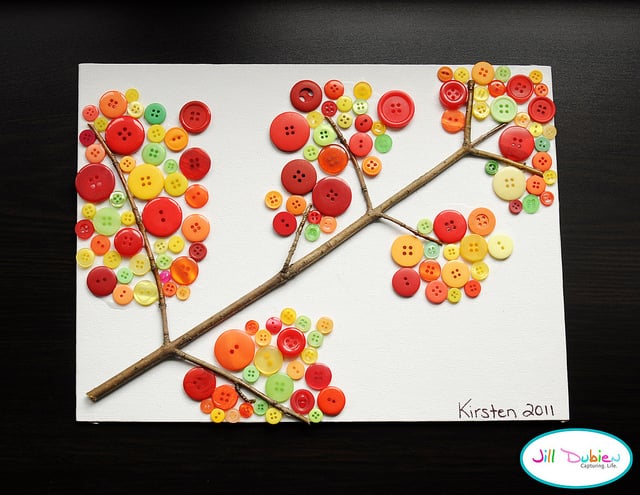 We love crafts with buttons, don't you? Create a lovely button branch [3] with your little ones by having them help you sort spare buttons by color. Older kiddos can also help glue and frame your masterpiece too!
Source: Meet the Dubiens [4]
Scented Play Dough
Mix together homemade scented play dough [5]. Use orange drink mix and add one tablespoon of cinnamon to create a really special dough.
Source: POPSUGAR Moms [6]
Memory Jars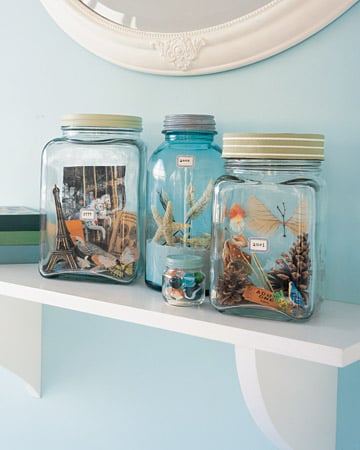 Nobody likes to say goodbye to their vacation, but there's an easy way to extend the joy of the trip. Whether created on a rainy day during the trip or once you're home, these vacation memory jars [7] help little ones retain their favorite artifacts from their time away from home. Best of all, they can easily be transported to school for the obligatory "what did you do on Spring break?" discussion.
Check out more fun boredom-busting kids crafts from our friends at Martha Stewart [8]!
Source: Photo by Annie Schlechter. Courtesy of Martha Stewart Living [9]
A Washi Tape Village
This adorable little village of paper-and-washi-tape houses is inspired by a book titled Mon Village by Delphine Doreau [10]. The beauty of the project is that kids can keep adding to the town as they acquire new tape.
Can't get enough of the washi-tape craze? We've got eight more kid-friendly washi-tape crafts [11]!
Source: Tambouille [12]
Hanging Baby-Food Jar Vases
Baby-food jars are the perfect size to display small flowers, like pansies, and this tutorial [13] shows how easy it is to convert the jars into minivases.
Wondering what else to do with all of those leftover baby-food jars [14]? We've got 20 great ideas!
Source: Good Housekeeping [15]
Marble Racetrack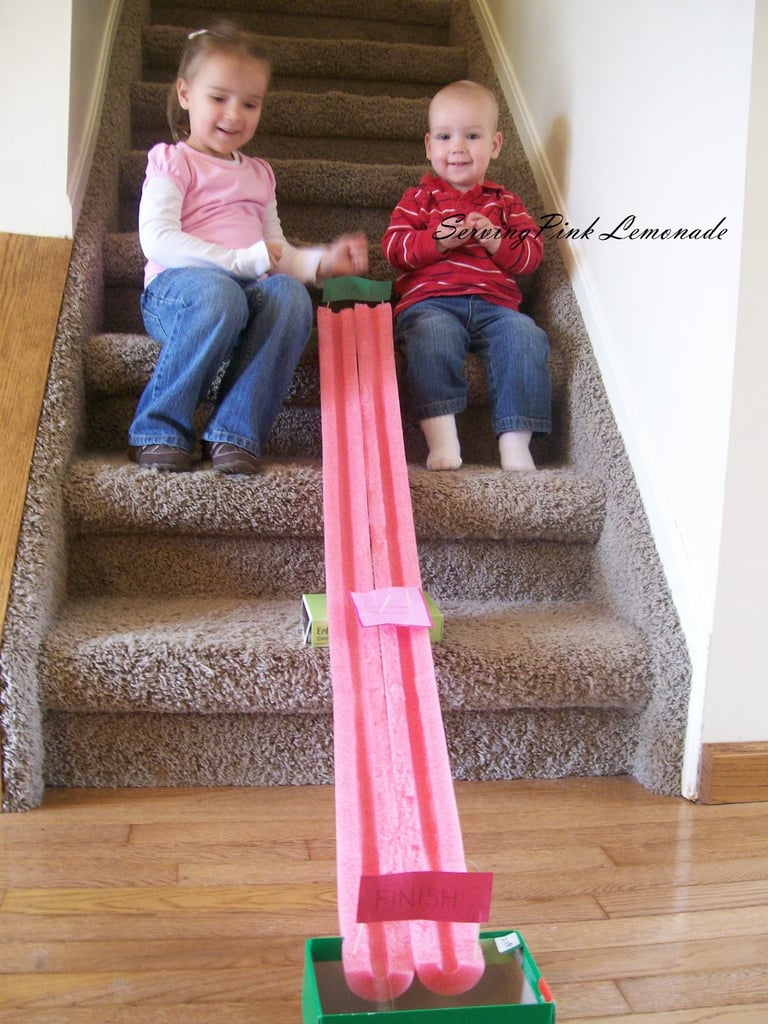 It's one thing to race cars around the house, but it's another to race marbles. This fun activity involves little more than a cut pool noodle (follow My HomeSpun Threads's [16] instructions and a marble!
Source: My HomeSpun Threads [17]
Make an Origami Sailboat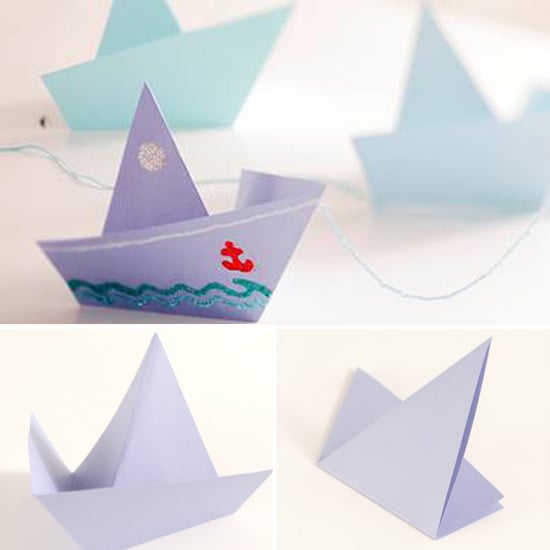 We love this nautical-themed craft from Krystin Marsh [18], photo stylist for flash-sale site The Foundary. Here's how:
Begin with a square piece of paper, any size.
To make a square, fold paper diagonally and cut off the excess paper.
To make the boat, begin by folding one of the folded points inward toward the other side at a slight angle. The tip of the point you are folding will be the top of the boat.
Open the square back up and do a "reverse" fold to create the sides of the boat. Your ship is set to sail!
Source: Kristin Marsh/The Foundary [19]
Make Lego Storage Jars
Recycle old baby-food jars [20] by turning them into Lego storage jars.
Source: obSEUSSed [21]
Have a Rock-Painting Party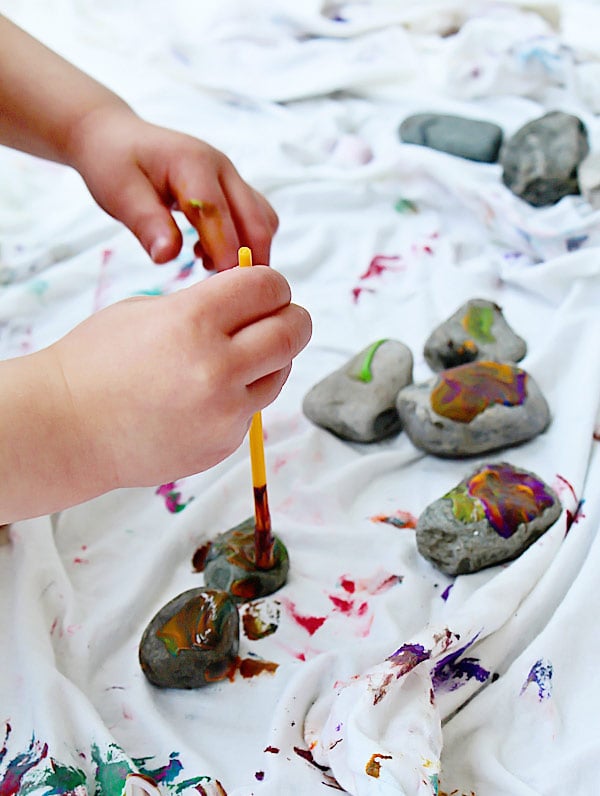 Take a few minutes to gather some rocks, see if you have some paint and brushes on hand, and then you have everything you need for a rock-painting party [22]. Let your kids get creative by mixing colors, and give toddlers smaller brushes to work on fine motor skills!
Source: Sweet Happy Life [23]
Make DIY Pillowcases
If you have some old bed linens that you're willing to sacrifice, then have your kids decorate their own pillowcases. If the final results are worthy, then give the linens a special spot on their beds.
Source: My Paper Lily [24]
Recycled Crafts
Empty containers can make a pit stop on their way to the recycle bin. Rather than throw them out right away, keep a few on hand for rainy-day activities. A finished and cleaned-out bleach bottle can be transformed into a piggy bottle bank [25], while toilet paper tubes can be turned into rocket ships [26]. All it takes is a little imagination and some supplies stocked under the sink.
Source: Photo by Aaron Dyer. Courtesy of Martha Stewart Living [27]
Make Fortune Tellers
Make fortune tellers (otherwise known as cootie catchers) like these ones by 5 Orange Potatoes [28].
Source: Flickr user cogdogblog [29]
Create a Bubble Wrap Print
The next time you get a bubble-wrapped item in the mail, don't toss that wrapper. Along with having fun and honing fine motor skills by popping those itty-bitty plastic bubbles, your little one can use it for creating a really cool painting [30].
Button Monogram
We love monograms [31], and we know you do too! A framed button monogram makes a fun personalized home decor accessory that gives any room a jolt of whimsy.
Source: American Crafts [32]
Button Jewelry
A button necklace or bracelet is easy to make, inexpensive, and superfun! Have the tots help you sort, pick, and thread the buttons.
Source: Yellow Blackbird [33]
Tear Up Some Paper
If you've got a tot who's not thrilled about getting crafty, then this torn paper collage craft [34] will have his fingers excited about creating.
Make Life-Size Paper Dolls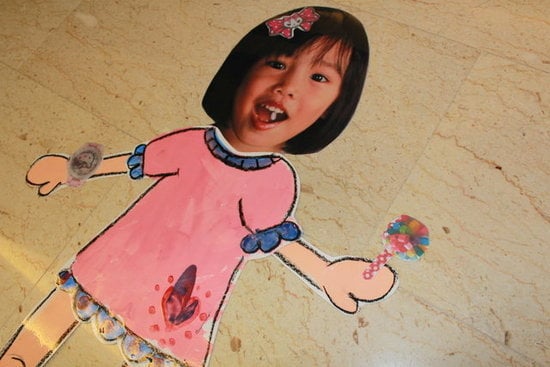 Forget little dress-up paper dolls that can easily be lost after use. Go big with life-size versions [35] that your tot can play with day after day.
Newspaper Forts
Forget the traditional blanket and pillow fort, and follow All For the Boys [36]' instructions for these fun and eco-friendly hideaways.
Source: All For the Boys [37]
Crayon Monogram
This crayon monogram project [38] makes a great gift for a teacher or a child. It also makes a thoughtful handmade addition to your child's nursery or bedroom decor.
Source: Cheap Chic Nursery [39]
Cardboard Play
Don't throw away those Diapers.com boxes that arrive throughout the year. Save them for a rainy day and transform them into something unique. With a few snips along the boxes' edges and some scraps of fabric from around the house, they can be converted into puppet theaters [40] for an afternoon showing of your little ones' favorite show.
Source: The Martha Stewart Show [41]
Create a Cool Piece of Crayon Art
This artwork might look complicated, but it really just involves a canvas, some hot-glued crayons, and a hair dryer. Get the full how-to here [42], but trust us: it's easy, quick, and pretty mess-free — though we'd avoid carpeted rooms.
Source: Whatever [43]
Hanging Crayon Hearts
These translucent hanging crayon hearts [44], made from waxed paper and crayon shavings, can cheer up a room in your home.
Source: Lisa Hubbard. Courtesy of MarthaStewart.com [45]
Button Bouquet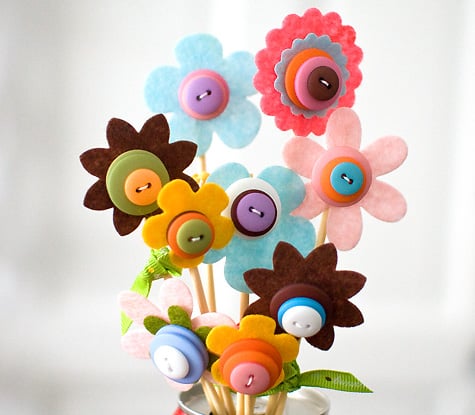 Break out your button stash and create a bouquet that blooms all year long!
Source: American Crafts [46]
Dig Up Some Old Socks
Create sock puppets, fill them with sand, or decorate them into door stoppers. A clean pair of socks has endless potential.
Upcycle Household Objects Into Toys
Transform old boxes and containers into toys [47], like this reused milk carton.
Make Your Own Pom-Poms
If you have a budding cheerleader on your hands, then use layers of tissue paper wrapped around dowels to create your very own rah rah-ready poms [48]!
Source: Martha Stewart [49]
Button Clock
Make one for yourself or one for a gift — we're pretty sure no one can resist the charm of a handmade button clock. You probably already have 12 buttons lying around the house to get you started!
Source: LAM Designs [50]
Make Paper Rosettes
Make paper rosettes [51] to hang in your windows.
Reuse the Colander
It may be used to drain pasta or clean off their favorite fruit, but the colander is much more than a cooking tool in the eyes of tots. From a robot's helmet to a sieve for finding treasures in backyard dirt, the colander is the wonder toy in the kitchen. (Just be sure to wash it before putting it back in the cupboard.)
Crayon Bowl Craft
Turn a plain, inexpensive bowl into a colorful creation with this cool crayon craft [52]. All you need is a bowl, crayons, and a glue gun.
Source: The Celebration Shoppe [53]
Have Fun With a Cardboard Box
They say tots love the box a toy comes in more than the toy itself. Pull one out on a rainy day, and watch a child's imagination come alive. Convert the box into a costume [54], transform it into a vehicle [55], or use it as a fort for some great indoor play.
Make Paper Bag Puppets
These can be as complicated or as simple as you want them to be, and the beauty of paper bag puppets is that you really don't need any fancy supplies other than staples. Check out Martha Stewart's tutorial [56] on how to make these adorable animal puppets.
Source: Martha Stewart [57]