Eco-Friendly Lunch Bags
School Year's Resolutions: Eco-Friendly Lunch Boxes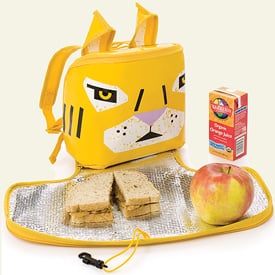 Brown paper bags are so passe. Make sure your child isn't outcasted at the earth-friendly lunch table by buying them an eco-friendly lunch box that helps reduce waste. Unlike the green lunch carriers of years past, today's bags are cute, kid-friendly, and serve many purposes. Check out a few of our favorites:
Kids Konserve lunch kit comes with a stainless-steel bottle, two stainless-steel containers with leak-proof plastic lids, a reusable baggie, a cloth napkin, and both a recycled aluminum name tag and recycled cotton lunch sack all made from nonleaching, BPA-free, lead-free and phthalate-free materials.
Munchlers Backpacks come in three cute polypropylene designs that unzip right into a place mat. The insulated bags easily fit lunch and a beverage.
The Lunchsense Lunchbox Set is BPA, PVC, and phthalate free, and comes with four food containers, a drink bottle, and a reusable ice pack. It opens up flat so it can be used as a place mat as well.
The lead, PVC, BPA and phthalate free Gator Tots Lunch Bag is large enough for a large lunch and keeps foods cool throughout the day. Its retro fabrics make it fun to look at too.
Cartoon and movie-loving tots will love Zak Design's phthalate-free lunch totes that feature every character from Spiderman to High School Musical.
Crocodile Creek's fun designs are a great alternative to character-driven ones. The eco-friendly bags even have an outside pocket for notes, utensils, or extra lunch money.
The Land's End Critter Lunch Box is a classic that has been lead and PVC-free for years.
Fleurville's Lunch Pak functions like a backpack that is insulated and ready to hold a midday meal. The lean and PVC-free bag also has storage compartments for holding projects from school.

 
Enter to win a $1,000 wardrobe for your child from Tea Collection!