Eco-Friendly Toy Options
Eco-Friendly Companies Partner With Major Toy Manufacturers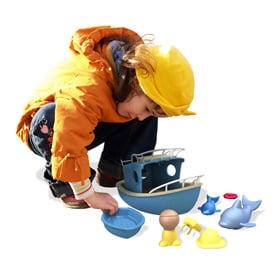 Is a company still green, even if it's owned by a mainstream manufacturer? The popularity of eco-friendly toys has given rise to a number of small companies that specialize in natural and recycled goods. Unfortunately, to create such products, some green makers turn to smaller plants to produce their toys, frequently leading to higher prices on the store shelves.
Just this week, Sprig Toys, the company that uses a bio-composite of recycled wood and reclaimed plastic to create their line of battery-free vehicles, announced a merger with WHAM-O, the 60-year-old company behind the Original Frisbee. According to the company, the new partnership will provide Sprig Toys with better access to manufacturing plants, ultimately reducing the price of their environmentally-friendly goods and introducing a line of WHAM-O Jr. products made from Sprig's Sprigwood material.
Such strategic partnerships are nothing new, but they do pose an important question: would you still buy eco-friendly products when they are manufactured by companies that aren't green?