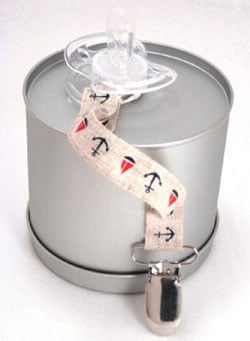 If keeping up with pacifier covers isn't your shtick you may want to consider clips, which will keep your lil one's binky attached to her body.
What better way to do it than with an Eco-chic option? Fawn and Finch Handmade Pacifier Clips ($7) securely attach to your child's clothing using a heavy duty metal clip. They are made of fray-resistant linen ribbon from Japan and the plastic teeth prevent any damage to your baby's shirt or onesie.
The themes range from Little Red Riding Hood to sky blue airplanes and robots.