Ecotot: Knú Table and Chairs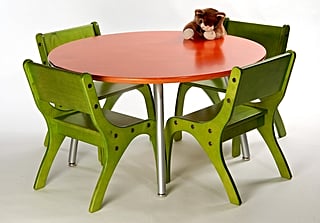 Over the years, kids' table and chair sets can take quite a beating when used on a daily basis. While there are plenty of inexpensive plastic sets on the market, the eco-friendly Knú Table and Chairs ($500) are designed to withstand snack time, arts and crafts, and brute force from lil ones with their wood and steel materials. Made from lead-free dyed FSC-certified Baltic birch plywood and supported by steel legs that are made from 40 percent recycled content, the pricey set is strong enough to last through multiple children and possibly grandchildren.
Knú, pronounced "new," takes eco-conscious manufacturing to the next level. The Michigan-based company uses sustainable harvested wood products and offsets all of its carbon emissions by using alternative energy credits and installing high-efficiency lights in its new plants. So while its modern designs may catch your eye, they should also catch your conscience.