Ecotot: Kukunest Eco-Friendly Bedding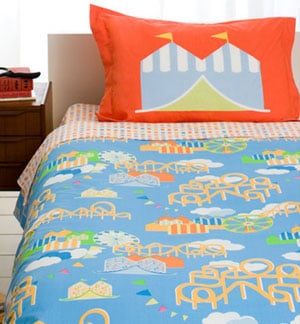 Modern, merry and surprisingly fresh, Kukunest offers a line of eco-conscious bedding for kids' rooms that will make both parents and children smile. Kukunest uses Öko-Tex standards for their products. What does that mean? Kukunest explains:

"Öko-Tex is a textile certification standard developed in Europe during the 1990s. . . Chemicals tested for include: lead, mercury, pesticides, phthalates, flame retardants, plus many others. With Öko-Tex Standard 100, you have the comfort of knowing that 100% of the fabric in our bedding is certified free of major toxic chemicals."
Besides the product being good for your kiddo, the prints are dreamy – perfect to help that little imagination run wild at bedtime. Toddlers can choose from these fun themes: a brilliant circus, Asian inspired dolls and lanterns, a submarine adventure, spaceships and planets, and friends from around the world.
You can buy the entire bedset which includes a twin duvet, a sham cover, and a sheet set for $189. Your tot will be snoozing in these sweet sheets.