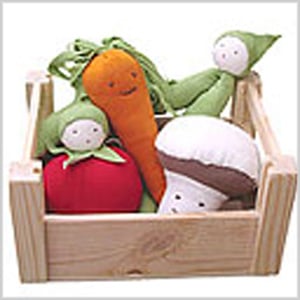 Get kids to eat their veggies before they even have teeth! These 100 percent organic Egyptian cotton teethers by Under the Nile are earth friendly and great for lil gummers.
The crate with four teethers — a carrot, a tomato, a green bean and a mushroom is $26. And, additional fruits and vegetables — a bunch of grapes, a banana, an eggplant and a broccoli stalk are sold individually for $6 each.
So stock up on the pint sized produce so you can soothe baby before he's ready to eat.