Elvis Pancake Sandwiches: Breakfast and Lunch!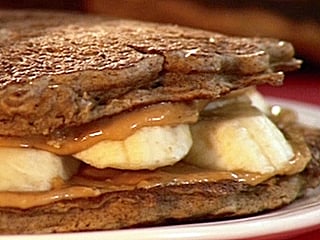 Breakfast sandwiches are popular with rushing mothers and their kiddos on the go! From egg filled bagels to bacon and cheese caught between an English muffin they fill the tummy up right. My son favors waffles sandwiches. The handy breakfast is easy enough for him to munch on in the car if he doesn't finish it before I have to shuttle him to school. While all the hearty meal involves is the simple assembly of two whole grain waffles (store bought or homemade) and a slathering of fresh peanut butter between them, I recently watched Big Daddy over at the Food Network make a more inventive recipe for his boy.
A twist on a sandwich Elvis Presley was famous for — peanut butter and banana, the cook takes buckwheat pancakes, adds the protein spread, sliced bananas and a drizzle of honey to make a morning sammie that can be finished in the afternoon if you pop it in your kiddo's lunchbox. While the flavors appeal to wee taste buds, its quick prep time makes it a dish mama can accomplish even if she isn't completely awake.
To get the recipe,
.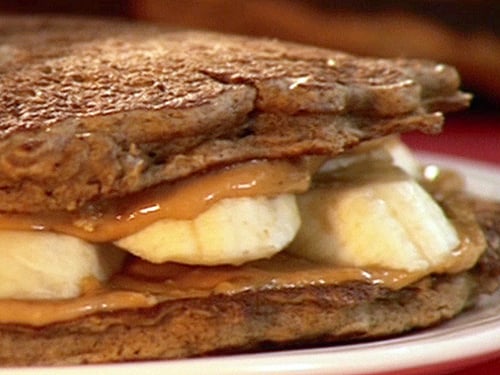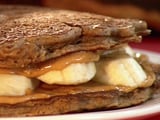 Ingredients
Batter:
* 2 cups buttermilk
* 2 eggs
* 2 teaspoons baking powder
* 2 teaspoons sugar
* 1 teaspoon salt
* 6 tablespoons butter, melted
* 1 cup all purpose flour
* 1 cup buckwheat flour
* 2 tablespoons butter, cold plus more as needed
* Peanut butter, for topping
* Sliced bananas, for topping
* Honey, for topping
Directions
In a large bowl, whisk together buttermilk, eggs, baking powder, sugar, salt and butter.

In another large bowl mix together all-purpose flour and buckwheat flour.

Slowly add flour into the wet ingredients mixing with a whisk. Mix until there are no lumps and the batter is smooth and velvety.

In a large cast iron skillet or flat grill pan over medium-high heat, melt a tablespoon of butter. Ladle pancake batter onto skillet to desired size. Using the ladle, form pancake into circular shape. Cook on each side for 2 to 3 minutes or until golden brown. Set pancakes aside and keep warm. Repeat with remaining ingredients.

Once completed, spread peanut butter on a pancake, layer it with sliced bananas and drizzle it with honey. Top the pancake with another pancake to form a sandwich. Repeat with remaining pancakes and serve with extra honey.
Information
Category

Breakfast/Brunch, Pancakes/Waffles