Emily Blunt on Playing Juliet in Gnomeo and Juliet
Emily Blunt Is No Princess in Disney's Gnomeo and Juliet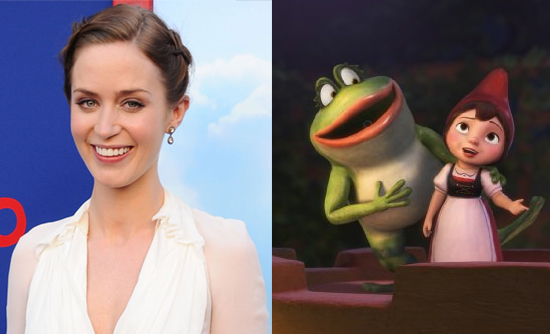 Actress Emily Blunt made a name for herself playing the powerful queen in The Young Victoria, but the actress portrays another admirable girl in her latest animated role as Juliet in Gnomeo & Juliet. At a recent press junket (Disney flew me down for the event), I had the chance to ask Blunt about the appeal of such characters.
LilSugar: There's been a lot of talk about princesses in film, both good and bad. Can you speak to playing such a strong, modern woman as Juliet in the movie?
Emily Blunt: Even in the original strong, Shakespearean version, I have never been one to see her as this wilting, delicate flower. I don't think she's passive or reactionary. I think she truly is the drive of that entire play. She's hot-tempered and she's forthright and independent, and maybe recklessly so. I think she's a very modern girl for that time (even in the play) when I read it I thought, "Wow! She's not just conforming to what her father wants her to do and she's going to fall in love with whoever she wants to fall in love with and suffer the consequences." I think that's sort of a rebellious way of being and so the Juliet in this film has those same qualities and that's what we wanted to do when I met Kelly Ashbury (the director). I said, "You should have her be a tough, little Juliet and not have her be so delicate and prissy." And, he loved that idea and that's kind of what we went for. The character is really lively and accessible for girls to look at and go, "Yeah, I'm kind of a tomboy — I'm like that." And, I enjoyed that aspect of the process — that Kelly was open to creating a character that wasn't kind of preconceived and so forth.