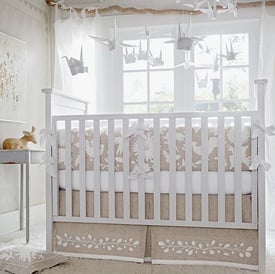 It all starts with the crib. Be it traditional, modern or eclectic, most moms hope to create a cozy nursery environment that their baby will find calm and comfortable – as well as one that will encourage sleep! When outfitting a nursery many mamas-to-be focus on safety measures, like adding a ceiling fan, and the fun decor items like the bedding, color scheme and wall decor.
But according to nursery decorator-to-the-stars Wendy Bellissimo, there is one simple item that should be placed in every baby's room, regardless of the parents' taste – a dimmer. At a recent breakfast meeting, Bellissimo told tales of helping her celebrity clients find unique pieces for their lil ones' lairs and explained that the dimmer can be used to create a tranquil setting for a fussy baby and alleviate middle of the night fumbling.
What was your one essential nursery item?