Exclusive! Jerry O'Connell Talks Parenting and Pigtails
Exclusive: Jerry O'Connell Talks Parenting and Pigtails
Jerry O'Connell made an appearance at the TCA this week to promote his new show, The Defenders — but when our girl Pop caught up with him he couldn't help gushing over his twins, Charlie and Dolly. Jerry talked about the trials and tribulations of raising girls and the valuable lessons he learned while staying home with them.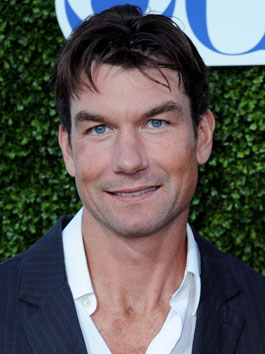 PopSugar: You had a book in the works — is that still something we can expect to see?
Jerry O'Connell: It's just not going to happen. I was looking into doing a book. My wife worked last year and I was at home with my daughters. Someone said you should write a dad's stay-at-home guide. It seemed like it was a popular subject. But it's just not going to happen right now. My kids were only 1, I didn't have enough information. So much changes when you have kids — I'll be able to write a book when they're 18.
PS: What did you learn being a stay-at-home dad?
JO: I'm not kidding you, I really feel that girls are the best. I've never had any girls in my family, I don't have any sisters. I do have my mom, but I wasn't really expecting girls, and then I got them. Boy do they love their daddy. It's just a really fun gender. I've learned how to do hair. I love doing hair. I love doing pigtails. It took me a while to learn, I was all thumbs navigating elastics and hair and holding a kid down . . . trying to brush it out so it's even. I just wanted to give them haircuts but my wife said no, let their hair grow out. I love dressing them up — I swore I would never dress them the same, but I only dress them the same now.
PS: Who are they more like? You or Rebecca?
JO: One is brunette and one is blond. One is really shy and one is really outgoing. They do argue over things, which amazes me because we always buy two of everything. And I mean everything. If I buy a pink bottle I buy two of them, if I buy a blue bottle I buy two of them. If I buy a teddy bear I buy two of them just because the fights that go down are crazy to me. If one of them has one thing the other one wants it. I tell them, girls look there are two, there is no reason to fight. And then I explain to them that their sister is going to be their best friend and the only one they are going to be able to trust ever.
PS: So you can tell they are already becoming best friends?
JO: You know, twins have this weird thing with each other. I do notice if we separate them — for example one was outside with my wife a couple months ago and the other one inside was with me. The one with me started crying and the one my wife was with started crying and acting weird, and we put them together and they just shut up. It's like they're wonder twins.
PS: Anything you're fearing as they grow older?
JO: Right now they're close to 2 and I wish they would get over eating rocks. I just wish they would get past that. It worries me that they still don't understand that. It's disturbing as a parent that every time your child is near a pebble they try to eat it. I want to stop having to watch them all the time when they're near pebbles. They just have a crazy rock habit and neither of them can kick it.