Fake Baby Bumps
Fake Baby Bumps? They're Available For More Than Just Halloween Costumes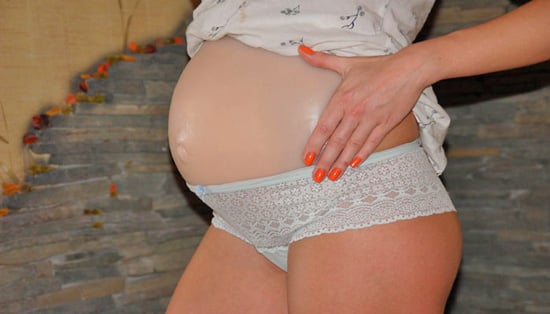 It's the disappearing bump that's been seen around the world. While a big star might be shooting down rumors that she's sporting a prosthetic bump, many mamas who've been there and done that wondered how (and why) someone would actually fake a pregnancy. While morning sickness and other pregnancy symptoms can easily be hidden, what about the tell-tale belly? A pillow under the shirt just won't do.
A quick search of the web reveals a few options for mamas with some money and a flair for the dramatic. Over at the Russian Belly Make, the company offers both foam ($350) and silicon options ($950), stating that the latter stick directly onto the real stomach and "look nearly identical to the real woman's pregnant belly and feels like real human skin." At the British Moon Bump, silicon bumps ($380) can be attached to nude bodysuits for a more comfortable fit. So who is actually buying these faux baby bellies? According to the sites, they are designed for movie and television sets but are also purchased by parents who "adopt a child or use [a] surrogate mother's services and don't wish other people to know about it."
If you were welcoming a child via adoption or surrogacy, would you go to such an extreme?