Lots of women like to think out loud and amPartyGirl is one of them. In Mommi-licious she takes a look at some fashionable maternity looks for stylish mamas-to-be. Just click on the photo below to find the items pictured.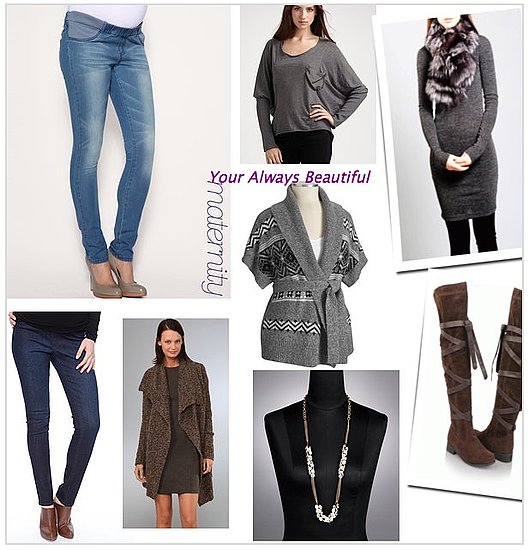 It may be hard to imagine what to wear when your pregnant and your body looks and feels completely different. Many of my girlfriends have told me about the trials of trying to find an outfit in the morning – one that doesn't involve sweats that is. And trust me ladies, I do not blame you for wanting to live in sweats! But picture this as a fashion challenge. And the best part is, since your pregnant you already look radiant!
There's a few things you'll have to keep in mind:
You need loose fitting items so that you can move easily – you don't want your belly to feel constrained (and you need to be able to stick your hand up your shirt and give your belly a little scratch from time to time)
You still want to feel sexy (every woman does no matter what) and you need to be stylish (just for fun)
If it's Fall, you need to be warm (snuggly would be best!)
A great trick is to always wear accessories. Not only for my fav reason, that it always reinvents your looks, but also because no matter what you know it will fit. And that takes a lot of worry away. Of course it does, in fact, give your most basic pieces a new breathe of life, so you could throw them under cute loose cardigans and look adorable.
Another trick is to buy affordable "trend" pieces. The reason is simple – trend pieces stick around for a limited amount of time so its perfect that you buy it at a time when you're at a size that is also only for a limited amount of time. So go ahead, and take a cheap risk!
Want to see more? Start following amPartyGirl or start your own OnSugar blog. It's easy, it's free, and we just may feature your content on our sites!