Family Activities in Jackson, Wyoming
Junior Jetset: Wild About Wyoming!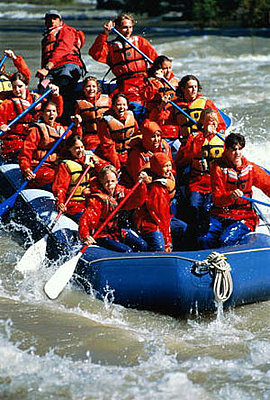 The first time a person lays eyes on the Grand Tetons outside the town of Jackson, WY, it takes one's breath away — even a tot's. Nestled between mountains and national parks, the Jackson airport does not serve every major airline, but can be reached through other large hubs. Once there renting a car is a breeze and a must if one intends on taking advantage of all the area has to offer. Aside from the splendid landscape families can also soak up a week's worth of activities. Here are some of my picks!
Alpine slide — Youngsters who like slides will jump for joy to ride the alpine slide at the Snow King resort. After riding the chairlift up the mountain, kids barrel down the pipe on a sled to the base of the hill.
Gondola ride — If hiking isn't in the cards, a gondola trip up to the top of Teton Village will give everyone a sublime view of the valley and afar.
Horseback ride — Lil buckaroos can saddle up for an old-fashioned trail ride through the parks with the opportunity to see wildlife, nature and get some grub along the way.
To see the rest of the exciting activities, just
.
When it comes to an action packed vacation, there's hardly a better place than Jackson Hole, WY to provide outdoor fun for everyone.
Source